If your Photos library won't open or the ‌Photos‌ app is exhibiting odd behavior on your Mac, the ‌Photos‌ Repair Library tool may fix the issue. Keep reading to learn how it works.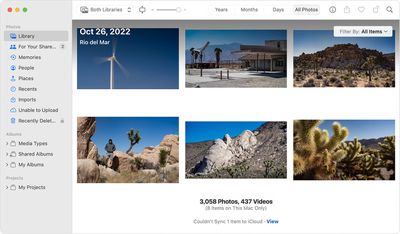 The Repair Library tool is a hidden utility in macOS that analyses your photo library's database and repairs any inconsistencies it detects. The tool isn't guaranteed to fix all problems that can arise with photo libraries, but it is worth giving it a go before contacting Apple Support.
Before you use the ‌Photos‌ Repair Library tool, make sure you have a local backup of your photo library, either by using Time Machine or a third-party backup solution, ideally with an external drive. By default, your photo library is stored in the Pictures folder within your home folder.
If you're repairing a library that's used with iCloud Photos, iCloud will check the library after the repair process has completed to ensure everything has synced correctly.

How to Launch the Photos Repair Library Tool
If ‌Photos‌ is open, close the app.
While clicking the ‌Photos‌ icon to open the app, hold down the Command and Option keys at the same time.
In the window that opens, click Repair to begin the repair process. Enter your user account password if prompted.
Wait while the repair process completes.

Depending on the size of your library, the repairs may take some time. When the process has finished, ‌Photos‌ will open the library, and with a little bit of luck, any unexpected behavior will have been resolved.