On iPhone 15 models, Apple has added a new way to take portrait photos. This article explains what's changed.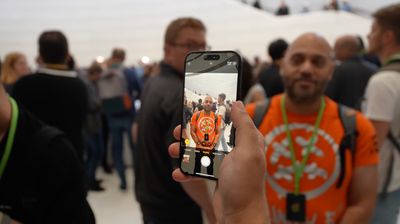 Apple's Portrait Mode has become a popular way of taking impressive shots using a depth-of-field effect known as bokeh, allowing iPhone users to shoot a photo that keeps the subject sharp with a blurred background.
With the launch of the ‌iPhone 15‌, Apple has upped its portrait game further thanks to an improved camera system that makes it easier to capture portraits with greater detail and provides better low light performance for portraits.
Not only that, ‌iPhone 15‌ user can now take portraits without even having to switch to Portrait mode. Here's how it's done.
With the Camera app open, aim the camera at a person, dog, or cat.
Wait for a circular f icon to appear in the bottom-left corner of the viewfinder. If the icon doesn't appear, tap a subject in the viewfinder to focus on it.
Tap the f icon so that a yellow circle surrounds it.
When you're ready, tap the shutter button to take the photo with the Portrait effect.

That's all there is to it. Your portrait picture is now ready to view by tapping it in the corner of the Camera interface.
The next-generation Portrait mode that is exclusive to ‌iPhone 15‌ models also allows you to turn a photo into a Portrait with depth information after the image has been taken. Check out our dedicated how-to article to learn how it's done.