With iOS 10, Apple has focused on expanding 3D Touch functionality to make it more relevant to users, in the hope that they eventually come to see it as second nature. If you have an iPhone 6s or later, there are a wide range of 3D Touch gestures that you can test out in iOS 10, particularly from the home screen.
Here we've compiled a list of native app icons that now support 3D Touch, as well as a handful of other useful functions. Some of them will be more relevant to you than others, depending on your usage habits. You can find additional 3D Touch shortcuts for the Control Center and Widgets Panel in iOS 10 in our respective how-to guides.
Settings Icon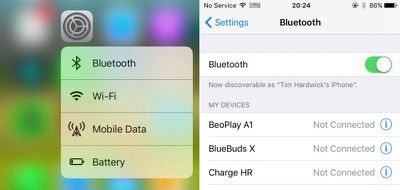 Some of the most handy 3D Touch functions can be found by hard-pressing the Settings app icon, which allows you to access the Bluetooth and Wi-Fi screens to quickly connect to a wireless device or hotspot.

News and Weather Icons


Deep-pressing Apple's News app offers you a preview of the current headline, which you can tap to go to directly, as well as shortcuts to the personalized For You section and any other custom news sources you've selected.
The Weather app also has a new preview widget for accessing from the home screen, with options to launch the app straight into a specific location forecast.
Note how app icon 3D Touch previews have an 'Add Widget' option in the top-right that let you add them to your Widgets panel (if they're not already there). The Widgets panel can be accessed by swiping right on the home screen and the lock screen.

Calendar and Reminders Apps
The Calendar and Reminders app icons have 3D Touch options to add events or to add reminders to specific lists.


In addition, if a calendar notification banner appears at the top of your screen, you can deep press it for more options. An event can then be snoozed, while an invitation can be accepted or declined without entering the full app.
Similarly, a reminder notification banner can be deep pressed, where you can mark the reminder as completed, or opt to be reminded about it later.

Photos and Camera Icons


The Photos app icon offers yearly photo collection shortcuts, along with options to see the most recent shot taken, your designated favorites, and a quick search option. Meanwhile, the Camera app gives you shortcuts to take a photo, record video, and take a selfie with the front-facing camera.

Mail and Messages Icons


Hard pressing on the Mail app icon gets you shortcuts to your inbox, favorites, the search field, and the composition screen, while pressing down on the Messages icon brings up shortcuts to compose a new message and any recent message threads.
And don't forget, hard pressing on an incoming iMessage notification banner lets you reply to it without entering the app.

Phone, Contacts, and FaceTime


A harder press on the Phone app gets you a pop-up menu with options to call one of your designated favorites, create a new contact or search for an existing one, and view the most recent call.
The first two shortcuts are mirrored by a deep press on the Contacts app, which in addition offers to take you straight to your own info card. The FaceTime app icon also offers 3D Touch shortcuts to your Favorites.

Safari and Apple Maps Icons


Quick Safari shortcuts include opening a new (private) tab and going straight to your Reading List or Bookmarks, while the Maps app icon gives you a destination preview and the ability send and mark your location or search nearby.

Folders and Downloads


If you've got a few apps downloading or updating at the same time, a hard press on one of them gives you the option to prioritize its download over all others. Note the Share option shown here, too - this appears as a default option for any third-party app icon you hard press.
3D Touch works on folders too: hard pressing gives you the option to rename the folder, and if there are any apps contained therein sporting notification badges, you get a shortcut to these as well.

iCloud and Music


Hard pressing the iCloud icon brings up shortcuts to three recently accessed files and a handy search function. The same action applied to the Music icon displays a search option, a shortcut to Beats 1 radio, and a widget with your three most frequently played albums plus a shuffle option - tap any of them to start playing without entering the app.

Other Native App Shortcuts
In iOS 10, other apps that offer useful shortcuts via 3D Touch include the Compass, Stocks, Podcasts, Tips, Clock, Wallet, Apple Store, App Store, and iTunes Store. And be sure to check out which of your third-party app icons have integrated 3D Touch, too.

Other 3D Touch Tricks
Peek and Pop
Two other 3D Touch features worth playing around with are 'Peek' and 'Pop'. Essentially they function as content preview functions – letting you, say, look (or peek) at the contents of an email without actually opening it, simply by hard pressing on the message in your inbox. A firmer press makes the same email open fully, while a swipe up reveals options for replying, forwarding, and the like.


Peek and Pop also let you view content from other apps without opening them. For example, instead of tapping on the address in the above email which would switch us to the Maps app, a hard press pops up a more convenient preview of the map. Immediately swiping up on the preview likewise reveals a series of further options, while tapping on the preview opens up the Maps app proper.


The same principle applies to web links and attachments in emails. In fact, this action can be found throughout iOS 10, so it's worth experimenting whenever you come across linked content that would usually require you to switch apps.
App Switcher and Cursor Control
Next time you want to open a recent app you used, try hard pressing the left side of the screen. The App Switcher should be activated, and the harder you press, the more recently-opened apps you'll see. This action works from the home screen, as well as a number of other native apps.
Lastly, next time you're using the onscreen keyboard, hard press on a letter and you'll gain control of the cursor, enabling you to easily track back and edit your text.

Keep on Pressing


More and more third-party apps are integrating 3D Touch in useful ways, so don't be shy – press away when you think it might lead to an action. And remember, if you're having trouble with the sensitivity of 3D Touch, you can adjust it in Settings -> General -> Accessibility -> 3D Touch.