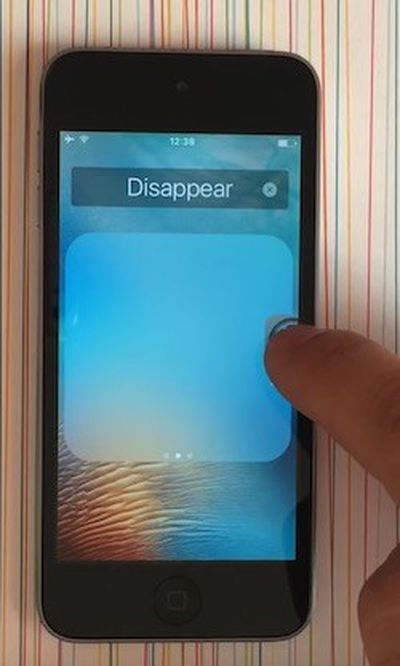 While Tim Cook has promised Apple will "figure out a way" for iPhone and iPad users to remove certain default apps, a new limited trick allows for stock icons to be temporarily hidden on devices running iOS 9.0 to iOS 9.2 without jailbreaking.
YouTube channel videosdebarraquito shared a video of his trick over the weekend, and we have confirmed the method works as shown. Follow these step-by-step instructions and watch the video below for a demonstration.

How to Hide App Icons on iOS 9
Hold down on the app icon you want to hide until it starts to wiggle.

Drag the app icon over any other app to create a folder.

Take your finger off the icon once in the folder. Do not press the Home button.

Drag the app icon to the second page of the folder. Take your finger off the icon.

Drag the app icon to the third page of the folder and keep your finger on it.

Drag the app icon to the edge of the folder and press the Home button simultaneously.
As long as the device remains powered on, including when the display is locked, the app icons removed with this trick will remain hidden.
Keep in mind that the hidden app icons will reappear when the iPhone and iPad is restarted, so this trick only serves as a temporarily solution.
As a boilerplate disclaimer, this is an unofficial trick and we cannot guarantee it will not cause any unforeseen problems on your iPhone or iPad.
(Thanks, Jose!)