The monogram complication on Apple Watch is designed to let you choose up to four letters to appear on your watch's display. Previously it was only available on the Color watch face, but if you're a Series 4 owner, you can also use it on the new Infograph watch face.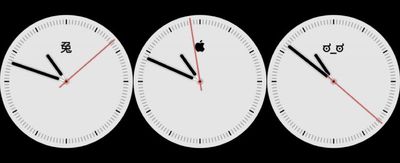 The idea behind the monogram is to let you add your initials to your watch display, but there's nothing stopping you from adding other characters. Emoji aren't supported, but most unicode characters are, including of course the Apple  symbol.
You can find all manner of unicode characters on the web – try searching for "unicode faces" for some fun combinations. You could also download a unicode iPhone app like UniChar for a more complete selection. Just remember that you can only combine up to four characters in your monogram.

How to Add a Monogram to Your Apple Watch
Copy the unicode character(s) you want to use in your monogram to your iPhone's clipboard. To copy from a web page, highlight the symbol(s) with a long press and then tap Copy from the popup menu.
Next, launch the stock Watch app on your iPhone.


Tap the My Watch tab if it's not already selected.
Tap Clock.
Tap Monogram.
Paste the character(s) into the Monogram field.


Now, return to the main menu in the My Watch tab, and a select a Color or Infograph watch face from My Faces. (If you're not yet using one, you can choose one from the Face Gallery.)
If you're using an Infograph face, tap Sub-dial Top and choose Monogram. If you're using a Color face, make sure the Monograph toggle is on.
Once that's done, your monogram should show up the next time you switch to the Color or Infograph watch face on your Apple Watch.