In iPadOS 15, Apple introduced a new productivity feature called Quick Notes that provides a quicker way to jot down things on your iPad without you having to go in and out of the Notes app.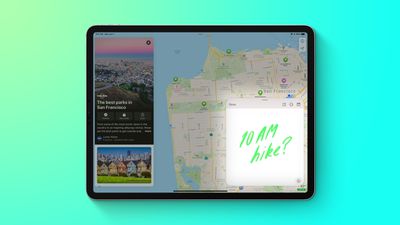 Whether you're on the Home Screen or within any app, you can bring up a floating Quick Note window at any time using your finger or an Apple Pencil, by swiping diagonally up from the bottom-right corner of the screen.
In iOS 15.4, currently in beta, Apple has made it possible to change the corner of the screen that you swipe from to invoke Quick Notes, or to add the same gesture to the bottom-left corner of the screen.
Not only that, it has also made it possible to add a second corner gesture that takes an instant screenshot, and it has added an option turn off corner gestures completely. Here's how to customize your corner gestures.

Launch the Settings app on your ‌iPad‌.
Scroll down and tap Notes.
Under the section "Quick Notes," tap Corner Gestures.


Tap Left Corner Swipe or Right Corner Swipe.
Choose Quick Note or Screenshot to add that action to the selected bottom-corner gesture, or choose Off to disable the corner gesture completely.

Note that the Corner Gestures menu in Settings has an on/off toggle to Allow Finger to Swipe From Corner in case you want to disable them altogether.