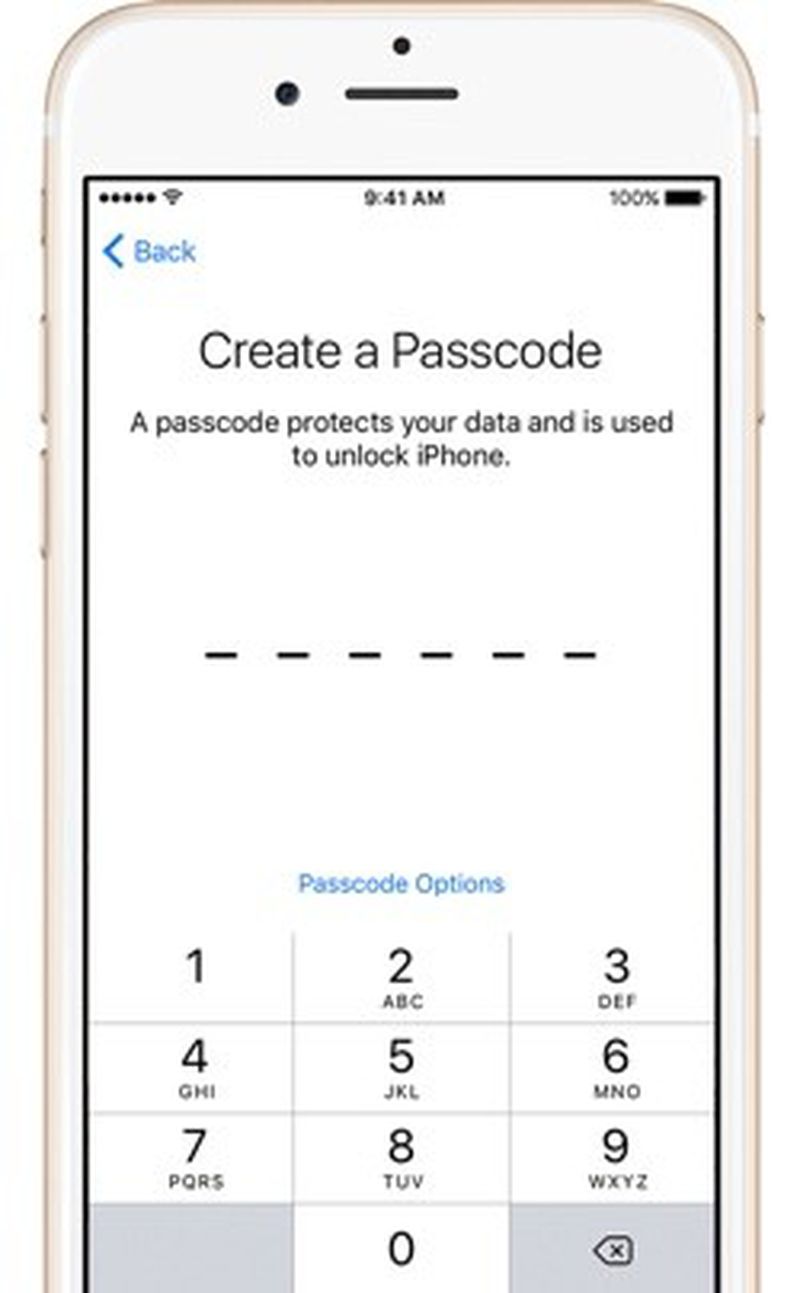 Apple's iPhones have long been protected by numeric passcodes, giving iOS users a way to protect keep their devices safe from hackers and prying eyes. Over the years, passcodes have been supplemented by Touch ID, Apple's fingerprint recognition system, but the passcode is still the iPhone's main line of defense.
A passcode is required to set up Touch ID, and Touch ID is automatically disabled after 48-hours until a passcode is input by an iPhone or iPad's owner. In the United States, passcodes are especially important because the law suggests that while law enforcement officers can require you to provide a fingerprint to unlock a device, the same is not true of a passcode.
For a long time, passcodes were four-digit numeric codes by default, but with iOS 9, Apple began using a six-digit passcode as the default option. Six-digit passcodes offer 1 million possible combinations instead of 10,000, making a passcode harder to crack.
Apple doesn't advertise it, but the iOS operating system offers an option to make your passcode even more secure through the use of an alphanumeric passcodes or custom length numeric passcodes. Alphanumeric passcodes contain letters and numbers. Both alphanumeric and custom numeric passcodes can be much longer than four or six digits.

Passcodes are currently in the spotlight because of an ongoing security debate between Apple and the FBI. Apple has been ordered to help the FBI access data on the iPhone 5c owned by one of the shooters involved in the 2015 San Bernadino attacks.
To do so, the FBI has asked Apple to create software that would eliminate the iOS feature that erases an iPhone after 10 failed passcode attempts, removes the time limits between passcode entries, and allows passcodes to be input electronically. Apple is opposing this order and it's not clear how the issue will play out, but should the FBI gain a tool to access iPhones in this manner, it would take just upwards of a half an hour to break into a phone with a 4-digit passcode. With an alphanumeric passcode, such a tool would be next to useless because of the sheer amount of time it would take to guess a passcode with millions of possible combinations.
Creating an Alphanumeric Passcode
Creating an alphanumeric passcode is a process that can be done with a few taps and about five minutes of your time.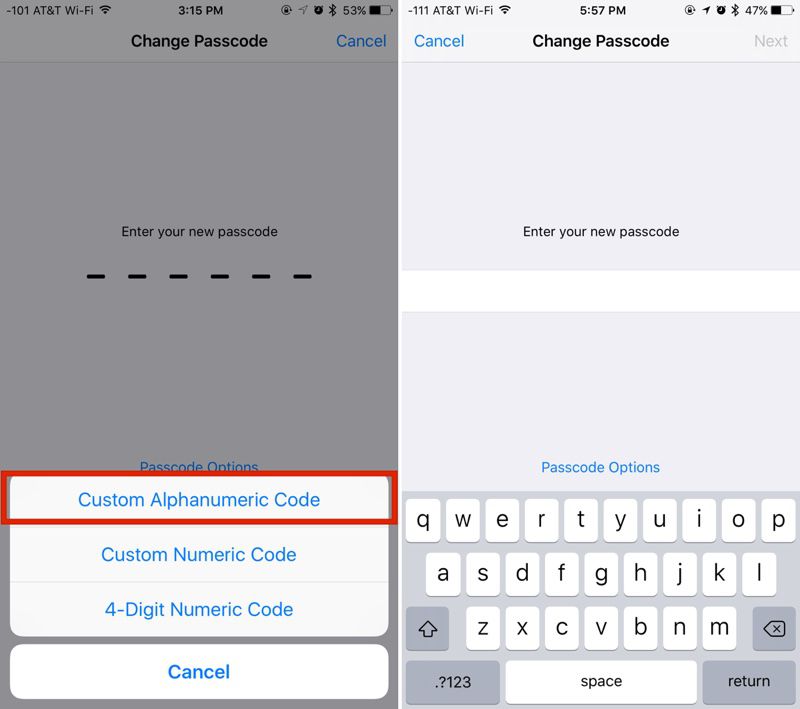 Open the Settings app on your iPhone or iPad.
Scroll down to "Touch ID & Passcode" and tap on it.
If you already have a passcode enabled, you will need to enter it to access the passcode options.
Select "Change Passcode" and enter your existing passcode again.
At the screen where you're asked to enter a new passcode, tap on "Passcode Options" located just above the numbered.
Choose "Custom Alphanumeric Code." You can also select "Custom Numeric Code" for a number-only passcode.
Enter your chosen passcode. It can include numbers, letters, and symbols.
Tap "Next."
You'll be prompted to enter the same passcode again to verify the spelling. Enter it again and tap "Done."
After entering an alphanumeric passcode or changing your passcode, Apple will prompt you to use the new passcode as your iCloud Security Code, which is used to protect passwords stored in iCloud Keychain. Click on "Use Same Code" to change it or "Don't Change Security Code" to continue using your old passcode.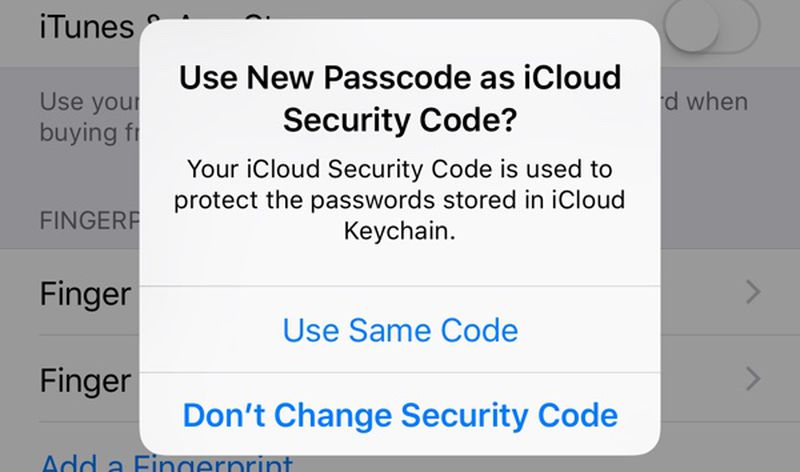 With an alphanumeric passcode set on an iPhone, instead of a number pad to enter a numeric passcode, you'll see a full QWERTY keyboard complete with access to numbers, letters, and symbols.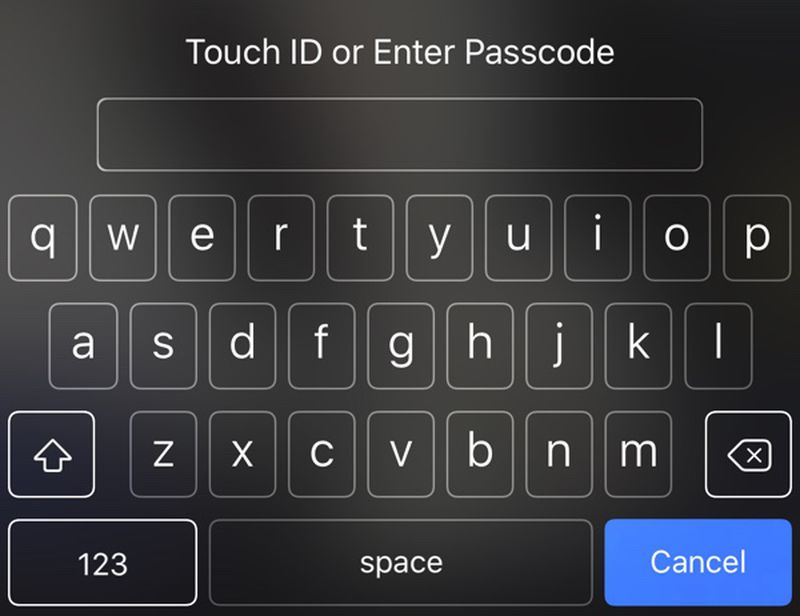 While not as convenient as a simple number code, an alphanumeric password can be harder to crack and just as easy to remember if you use randomly generated combinations of words. For example, "sarcasm-blacken-guilder-epilepsy" or "stitch-quasi-peppery-tuneless," two password phrases generated by 1Password, aren't difficult to remember because they're simple words, but with upwards of 29 characters, they're impossible to guess or brute force. Using an alphanumeric passcode will be more of a hassle than a standard passcode, but with Touch ID, a passcode doesn't need to be entered too often.
Any alphanumeric code used to protect an iPhone should be unique set of words or numbers that are not used for other products, services, or websites, which will make it impossible to obtain through social engineering or phishing attempts.
Top Stories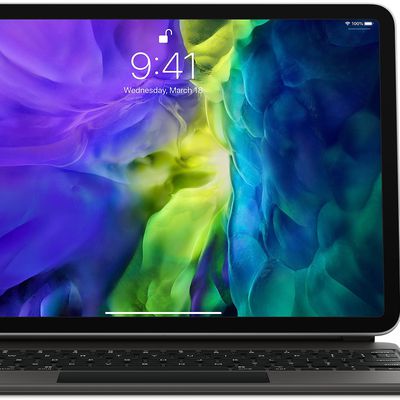 Apple today released iOS and iPadOS 13.4, the latest major updates to the iOS 13 operating system that was released in September. iOS and iPadOS 13.4 come two months after the release of iOS and iPadOS 13.3.1 with Screen Time Communication Limits. The iOS and ‌iPadOS‌ 13.4 updates are available on all eligible devices over-the-air in the Settings app. To access the updates, go to...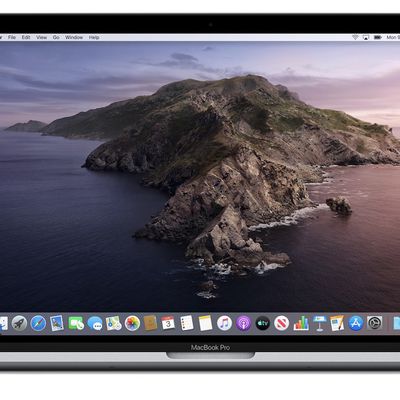 Apple today released macOS Catalina 10.15.4, the fourth update to the macOS Catalina operating system that was released in October. macOS Catalina 10.15.4 comes a couple of months after the release of macOS Catalina 10.15.3. macOS Catalina 10.15.4 can be downloaded from the Mac App Store for free using the Update feature in the System Preferences app. The macOS Catalina 10.15.4 update...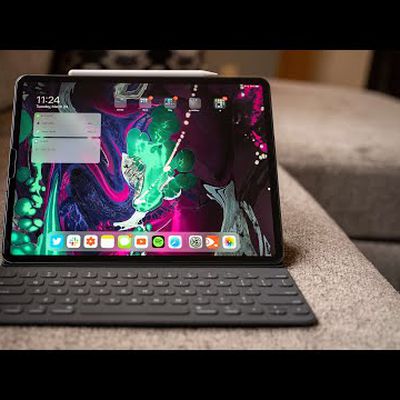 Apple last week introduced new 11 and 12.9-inch iPad Pro models, which are set to arrive in the hands of customers starting this week. Apple introduced a nifty new Magic Keyboard with trackpad alongside the new iPad Pro models that's coming in May, but it also debuted a new Smart Keyboard Folio, which is available now. We picked up the Smart Keyboard Folio for the designed for the 2020 iPad...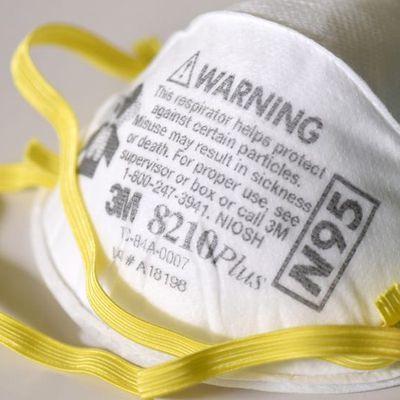 Apple over the weekend announced plans to donate millions of N95 masks to hospitals in the United States and Europe, and according to Apple CEO Tim Cook, Apple has been able to source more than 10 million N95 masks in the U.S. and millions more in Europe. Apple CEO Tim Cook said on Saturday that Apple was aiming to donate supplies to healthcare providers fighting COVID-19, and clarified...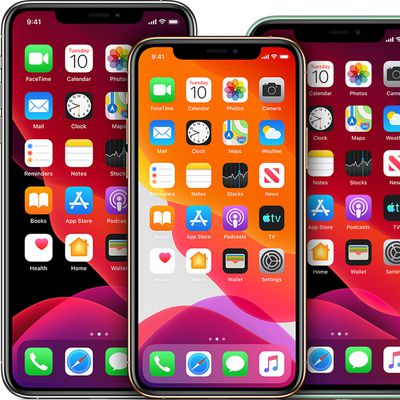 Apple is preparing to delay the launch of the 2020 iPhones expected to be equipped with 5G technology, according to sources with knowledge of Apple's plans that spoke to Japanese news site Nikkei. Apple has reportedly held internal discussions about the possibility of delaying the launch "by months" over fears of how well iPhones would sell in the current situation, and supply chain sources...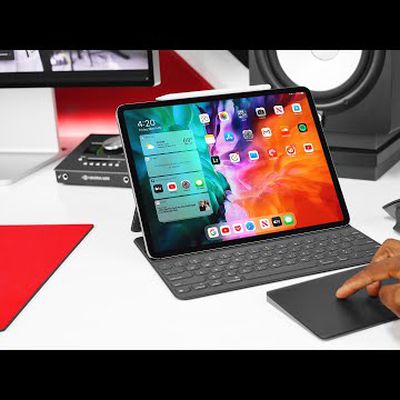 Apple last week introduced new iPad Pro models with an similar performing A12Z Bionic chip, an Ultra Wide camera for 0.5x zoom, and a LiDAR Scanner for enhanced augmented reality. The new iPad Pro models will begin arriving to customers and go on sale at select stores starting tomorrow, and ahead of time, the first unboxing videos have surfaced. The new iPad Pro models will be compatible with A...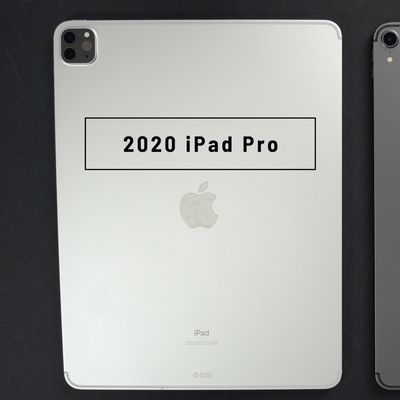 Apple last week announced new 11 and 12.9-inch iPad Pro models, and as of today, the new iPads are arriving to customers. We picked up one of the new 12.9-inch models and checked it out to see just what's new and whether it's worth buying. Subscribe to the MacRumors YouTube channel for more videos. When it comes to design, the new iPad Pro models are identical to the 2018 iPad Pro models, but ...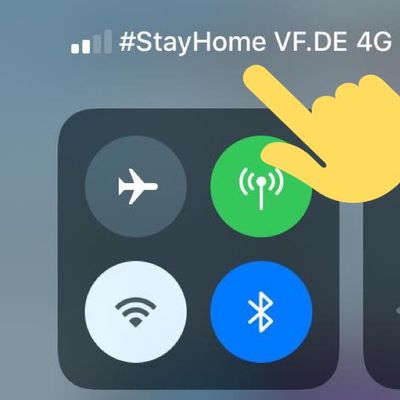 iPhone users in several countries who disconnect from WiFi on their devices will see a "Stay Home" message at the top of the Control Center where cellular network information is displayed. Image via Matt Navarra According to reports on Twitter, the status bar messages are showing up in countries that include Germany, Belgium, United Arab Emirates, Peru, Turkey, India, Luxembourg, Romania,...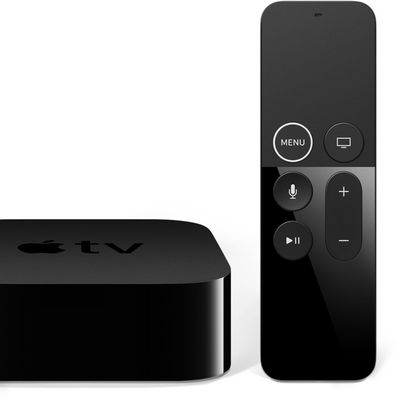 Apple today released tvOS 13.4, the third major update to the tvOS operating system that runs on the fourth and fifth-generation Apple TV models. tvOS 13.4 comes a couple of months after the release of tvOS 13.3.1. tvOS 13.4, a free update, can be downloaded over the air through the Settings app on the Apple TV by going to System > Software Update. Apple TV owners who have automatic software ...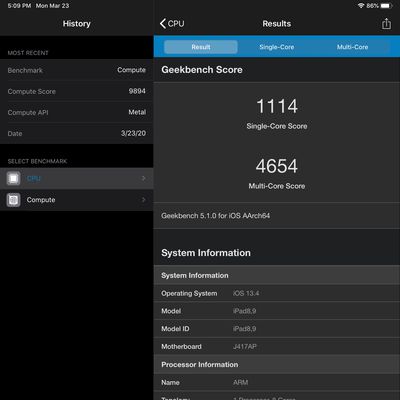 One of the new 2020 iPad Pro models equipped with an A12Z chip arrived early to a Reddit user, who did some benchmarking tests to see how it performs. In a Geekbench 5 test, the 11-inch 2020 iPad Pro earned a single-core score of 1114 and a multi-core score of 4654, which is close to the Geekbench scores of the 11-inch iPad Pro from 2018. The 11-inch iPad Pro has an aggregate single-core G...