Apple Watch features a heart rate monitor to help guide you through your workout sessions, tracking your heart rate while you exercise to better determine the amount of calories you burn during your activities.
The monitor also automatically tries to measure your heart rate every 10 minutes, but doesn't record the data if your arm is moving. That is why your Health app doesn't reflect a reading at every 10 minutes on the dot, but shows varying intervals of readings.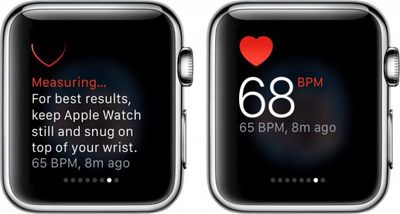 If you want to get a quick, accurate measurement of your heart rate manually you can do so in Glances.
The heart rate sensor is on the backside of the Apple Watch case and is made up of two different sets of special lights that monitor the blood flow through your wrist. Because the sensors absorb light through your skin, there are a few factors that affect the accuracy of a heart rate reading.


By following a few tips, as well as calibrating Apple Watch for workouts, you will get a better heart rate reading, thus improving the device's ability to more determine how many calories you burn.

A Proper Fit
As simple as it sounds, a good fit is key to getting an accurate heart rate reading. Some people don't like the way it feels to have their watch snug on their wrist, but for the purposes of a proper reading, you'll need to keep it tight. When you hold your wrist out, there should be no gap between Apple Watch and your skin.


If the feeling is just too uncomfortable for you to wear the device snug to your wrist, it might be a good idea to adjust the band differently for different activities. If you are working out, tighten it up one notch until you are done.

Avoid Cold Weather Workouts
The heart rate sensor is affected by how much blood flows through your skin. In cold weather, we tend to produce less blood flow near the surface of the skin as the blood is rerouted to warm more important parts of our bodies (it is why our fingers and noses get so cold). Some people enjoy jogging in the snow, but keep in mind that this may have an affect on an accurate heart rate reading from your Apple Watch.

Avoid Irregular Motion
Apple Watch gets a better reading when you've calibrated it by walking or running for 20 minutes. It tracks the rhythm of your movement and adjusts its data accordingly.
However, irregular movement, like playing tennis or boxing, will confuse the sensor and reduce its accuracy. So, for such workouts that have you swinging your arms wildly, be aware that your heart rate reading may not be as accurate as you would like.

Troubleshooting
If, for some reason, the heart rate monitor on your Apple Watch stops working, you may need to restart or reset the device.

Press and hold the Side button until the power off slider bar appears and slide it to turn off Apple Watch.
Press and hold the Side button again until the Apple Watch logo appears.
If that does not work, try resetting your Apple Watch.
On Apple Watch, open the Settings app and tap General.
Tap Reset. Then tap "Erase All Content and Settings."
Re-pair Apple Watch with your iPhone.
Although it is not an exact science, the heart rate monitor on Apple Watch is a useful way of tracking your activities and getting a better estimate on how many calories you burn. Following the tips above will improve accuracy of the light-absorbing sensors.