Will My Mac Run macOS Sonoma?
Apple in June previewed macOS Sonoma, its next major software update for Macs that is expected to be publicly released in the fall. Keep reading to learn what's new and if Apple's forthcoming operating system will run on your Mac.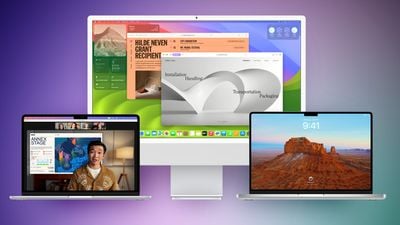 macOS Sonoma includes several new features, including desktop widgets, Apple TV-like aerial screensavers, enhancements to apps like Messages and Safari, a new Game mode that prioritizes CPU and GPU performance for gaming, and more.
Interactive widgets can now be placed right on your desktop and blend into your wallpaper so as not to be obtrusive when you're working, and thanks to Continuity, you can use iPhone widgets on your Mac.
There are also new enhanced video conferencing features, including Presenter Overlay to allow users to display themselves in front of the content they are sharing. Reactions let users express how they feel within a video session, and Screen Sharing has been improved with a simplified process.


In Safari, an update to Private Browsing provides greater protection from trackers and from people who might have access to the user's device, and Profiles offer a way to separate browsing between topics, like having one for work and one for personal browsing. There's also a new way to create web apps that work like normal apps and let you get to your favorite website faster.
Meanwhile, for gamers, there's a new Game Mode that delivers an optimized gaming experience with smoother and more consistent frame rates. It dramatically lowers audio latency with AirPods and reduces input latency with game controllers, and it works with any game on Mac.
macOS Sonoma Compatibility
macOS Sonoma drops support for the following Macs:
2017 MacBook Pro
2017 iMac
2017 MacBook (12-Inch)
macOS Sonoma remains compatible with the following Macs:
MacBook Pro: 2018 and later
MacBook Air: 2018 and later
Mac mini: 2018 and later
iMac: 2019 and later
iMac Pro: 2017
Mac Studio: 2022 and later
Mac Pro: 2019 and later
How to Identify Your Mac's Model
If you're unsure which Mac model you have, you can find out easily. Switch on your Mac, log in, and from the Apple menu () in the corner of your screen, choose About This Mac. In the window that appears you'll see the Mac model listed as well as the year it was made.
Want to Try macOS Sonoma Beta for Free?
Apple has already released the first macOS Sonoma beta to developers, and in a first for the company, it is also giving non-developers the opportunity to download the beta on their Macs for free. Check out our dedicated guide to learn how it's done.