SwiftKey Keyboard
By MacRumors Staff
SwiftKey Keyboard Articles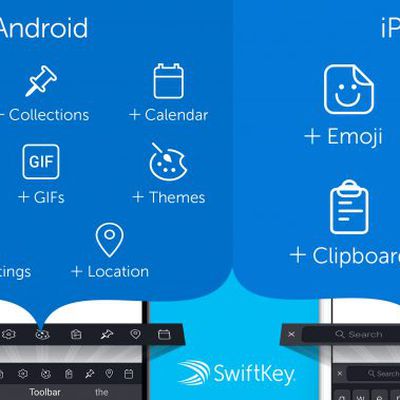 iOS and Android keyboard app SwiftKey today announced its "biggest update" since the company was acquired by Microsoft in April of 2016. SwiftKey 7.0 includes a "Toolbar" designed to give users fast access to features that are both old and new. Found under a new "+" sign to the left of the prediction bar, Toolbar will give iOS users the ability to quickly add emoji, GIFs, and items copied from ...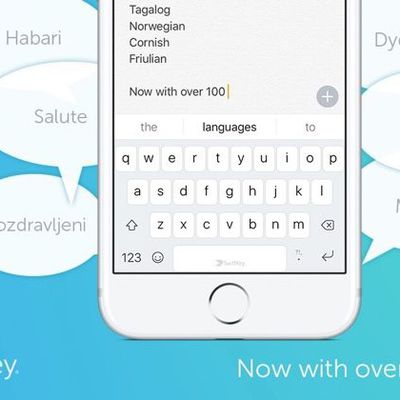 The Microsoft-owned SwiftKey Keyboard app for iOS today received a major update, introducing a refreshed design, new animated themes, and support for 68 new languages, bringing the total number of languages supported to 106. SwiftKey's entire look and feel has been overhauled, with the Nickel Light and Nickel Dark themes gaining a new, cleaner design with flatter, wider keys and a simpler...

The popular SwiftKey keyboard for iPhone was today updated to add a fun new tracking feature, Emoji Insights. Emoji Insights gives users a look into their personal emoji usage habits, offering up data on top emoji used, signature emoji, and emoji state, as detailed below.My Signature Emoji - The emoji you use more than other people. This emoji is generated by the emoji you overuse compared to the ...

SwiftKey is one of the more popular third-party keyboard choices on iOS, due to its autocorrect and word prediction capabilities that are able to adapt to an individual's usage style over time. Since its debut last September, SwiftKey has been updated several times with features like predictive emoji and typing stats, and as of today, it's getting another major update that will allow for deeper...

It appears that the popular SwiftKey keyboard for iOS will soon be gaining a Theme Store, MacRumors has learned. SwiftKey already has three themes available in app for free, but the new Theme Store seems to add 11 additional themes that can be purchased at prices between $0.99 and $1.99. Lower priced $0.99 themes change the color of the keyboard, and some of the available options include...

Popular third-party keyboard SwiftKey for iOS is being updated today with an interesting new feature called Tap Map, which gives an inside look at how the app works. With Tap Map, users can see how the SwiftKey AI adapts to their typing patterns to help them make fewer typos. The Tap Map, similar to our heatmap on SwiftKey Keyboard for Android, shows how SwiftKey uses artificial intelligence...

SwiftKey is one of the most popular third-party keyboard options on iOS, and today it received a major update adding a highly requested feature -- emoji. Emoji can be accessed by tapping on the smiley at the bottom of the keyboard, and there's also a new predictive emoji tool that learns the most frequently used emoji and suggests them while typing. We've built emoji right into SwiftKey...