Apple Pay promo
By MacRumors Staff
Apple Pay promo Articles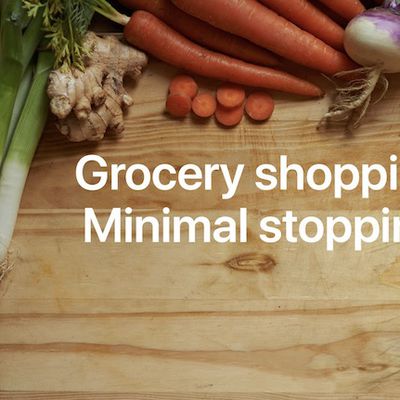 The latest Apple Pay promotion grants you free delivery on groceries with Instacart as long as you use Apple's mobile wallet to checkout on the app through 11:59 p.m. PT on May 23, and your order runs for $35 or more. There is no specific promo code, so as long as you meet these requirements the discount should appear automatically during the checkout process in Instacart. Free delivery will...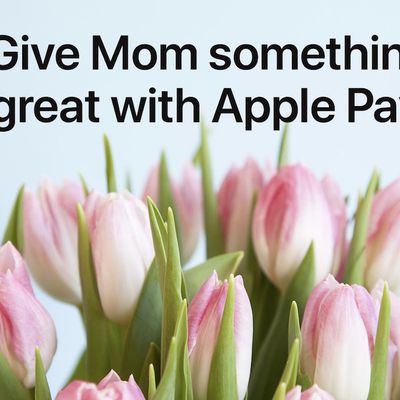 Apple Pay's new promotion offers savings on 1-800-Flowers just in time for Mother's Day on May 13. With the promo, if you use Apple Pay to shop the Gift Collection in the 1-800-Flowers iOS app [Direct Link] or on 1800Flowers.com, you can get $15 off your order. The discount will be applied automatically in the checkout process, and will last through May 13, 2018 at 11:59 p.m. EST. The flower ...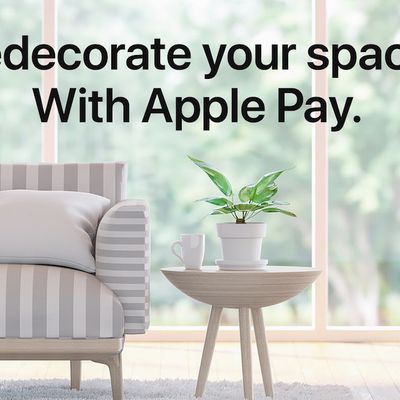 This week's Apple Pay promotion is a partnership with furniture and décor app Hayneedle [Direct Link], allowing customers to get 10 percent off their orders when using Apple Pay to check out. No promotional code is required, and the offer will last through May 2, 2018. The Hayneedle iOS app lets customers discover new home furniture and other items, including sofas, art, dining sets,...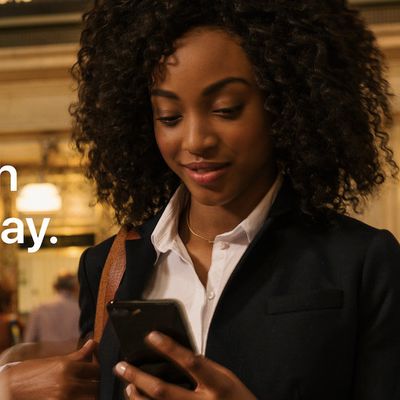 Anyone who uses Apple Pay to checkout in the McDonald's iOS app on a Friday in April will have the opportunity to get free Medium fries with their order. The offer for a free side of fries is Apple's latest promotion for Apple Pay, and customers have two more Fridays to take advantage of it: April 20 and April 27. The McDonald's promotion is valid only with a minimum $1 purchase (excluding...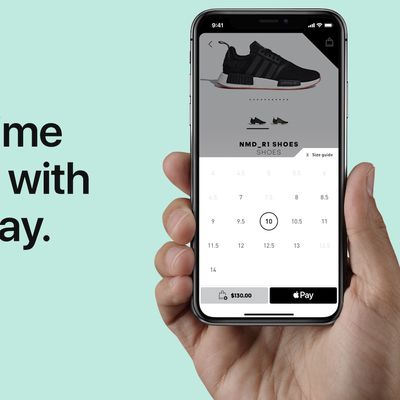 Shoppers who use Apple Pay to checkout in Adidas, GOAT, Hotwire, and more over the next few weeks will be rewarded with numerous exclusive offers, thanks to Apple's new "Springtime savings" event. Unlike previous Apple Pay promos that usually focus on one or two services, the new deal is for 10 total apps and websites that support Apple Pay. You can check out all of the offers in the list...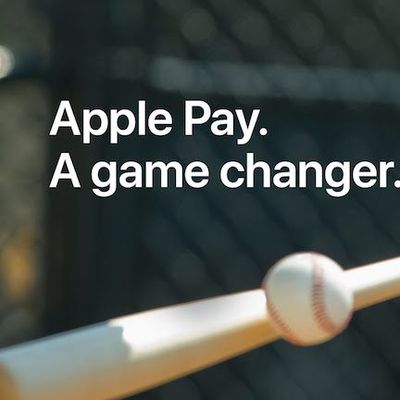 In Apple's latest promo for Apple Pay, sports fans can save 20 percent on gear when paying with Apple Pay in the Fanatics app or on Fanatics.com. To see the discount, make a purchase worth $25 or more on Fanatics, then enter the coupon code APPLEPAY20 during checkout to redeem the 20 percent off savings. The promo runs from today, March 29, through April 4 at 11:59 p.m. ET. Fanatics'...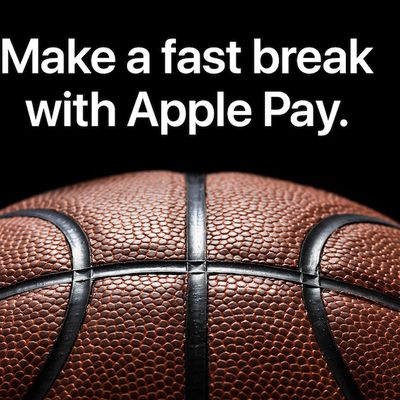 The latest Apple Pay promo has launched today, offering users the chance to get up to three free restaurant deliveries in select apps. To take advantage of the March Madness-themed promotion, customers can enter the code "HOOPS" at checkout in Grubhub, Seamless, and Eat24 (in apps or on websites), and pay for their orders via Apple Pay to get a free delivery. The offer is limited to...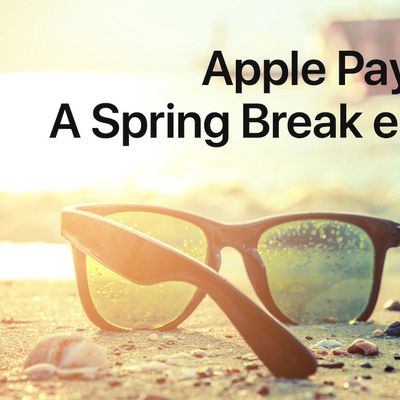 The latest Apple Pay promotion has launched today, and this time Apple is preparing users for Spring Break. When using Apple Pay in the TouchTunes jukebox iOS app [Direct Link], users can get three free song credits. The offer is valid through 11:59 p.m. PT on March 27, 2018 in the United States and Canada only. TouchTunes uses a network of digital jukeboxes across 65,000 bars, restaurants,...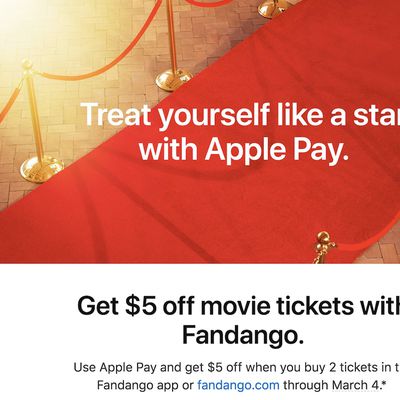 One week after launching an Instacart promotion for Apple Pay users, Apple's latest offer for Apple Pay customers is $5 off movie tickets with ticketing service Fandango. To get the discount, Apple said that you'll have to order two or more movie tickets in a single transaction within the Fandango app [Direct Link] or on Fandango.com, enter the promo code "STARPOWER" at checkout, and then...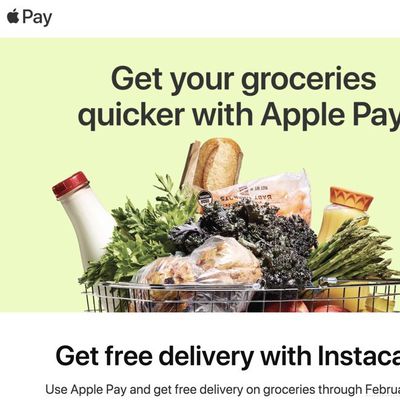 For the last few months, Apple has been offering regular promotions to entice customers to use Apple Pay within various apps. This week, Apple has teamed up with Instacart to offer free delivery on groceries purchased in the Instacart app using Apple Pay through February 28. To get the deal, customers will need to spend at least $35 per order, and taxes and service fees still apply. Free...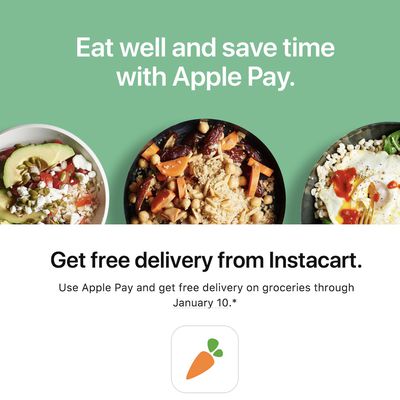 Apple has launched a new Apple Pay promotion running through Wednesday, January 10 and centering upon grocery delivery app Instacart. With the promo, you can get free delivery on Instacart orders of $35 or more when using Apple Pay to checkout, and no promo code is needed. The fine print for the new offer notes that free delivery will be subject to availability in certain areas, and service...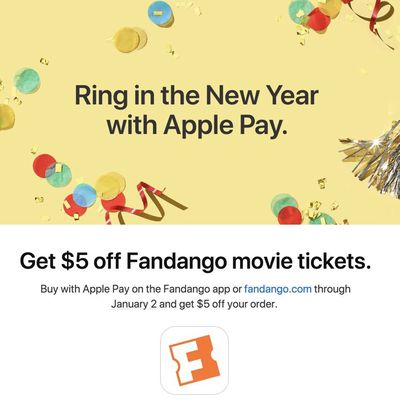 Apple is offering an Apple Pay promotion this week that discounts Fandango movie tickets by $5 when you make a purchase using either the Fandango app or the Fandango.com website. The discount will be available on movie ticket purchases made through January 2, according to the email that went out to Apple customers this morning. When you make a purchase using Apple Pay, you will need to use the ...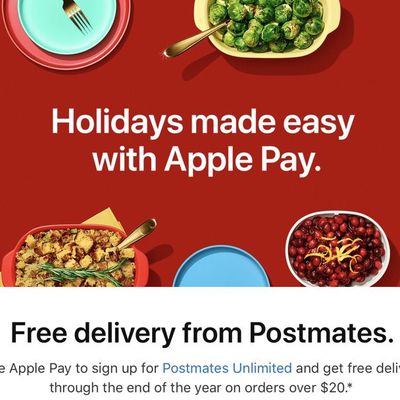 Apple today sent out an Apple Pay email to customers, highlighting a Postmates deal. If you use Apple Pay to sign up for the Postmates Unlimited service, you can get free delivery through the end of the year on all orders over $20 without paying the $9.99 per month fee. Postmates Unlimited is a subscription service that allows customers to get free delivery from any merchant in their city on...