Samsung to Follow iPhone 15 Pro and Use Titanium for Galaxy S24 Ultra
Apple's embrace of titanium for its latest iPhone 15 Pro chassis appears to have impressed Samsung enough that the Korean rival plans to adopt the material for the next version of its flagship smartphone.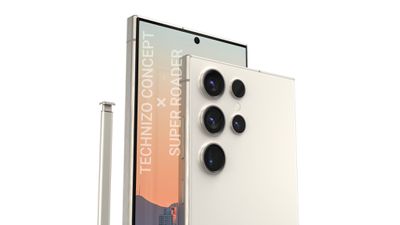 The Galaxy S24 Ultra will be the first Samsung phone to use titanium and the company intends to expand the application depending on users' reception, according to
The Elec
.
For the iPhone 15 Pro and iPhone 15 Pro Max, Apple is using a new titanium frame rather than a stainless steel frame, which cuts down on weight. The iPhone 15 Pro and iPhone 15 Pro Max are approximately nine percent lighter than the iPhone 14 Pro and iPhone 14 Pro Max.
The iPhone 15 Pro weighs 187 grams, down from 206 grams for the iPhone 14 Pro, while the iPhone 15 Pro Max weighs 221 grams, down from 240 grams for the iPhone 14 Pro Max.
According to the report, Samsung's adoption of titanium for the S24 Ultra is unlikely to lead to an equivalent weight reduction compared to the S23 Ultra, since Samsung currently uses light aluminum in its flagship devices, whereas Apple previously used heavier but more durable stainless steel.
According to The Elec's sources, Samsung has been mulling using titanium cases for around two years, although the decision to go ahead with its commercializtion only came recently – but not without cost. Titanium is widely used in the aerospace sector. However, it is more difficult to handle in cutting and processing, and its low heat conductivity makes it harder to cut cleanly.
Samsung is therefore bracing itself for lower yield rates, which will push up the price of the frames. The aluminum cases in the company's premium phones currently cost less than $20, while titanium versions could cost up to $100, according to the report. Samsung is said to have "tentatively" set a goal to make 15 million frame units – the same number of Galaxy S23 Ultra models it shipped this year.