Nanoleaf Debuts Matter-Enabled Smart Holiday String Lights
Nanoleaf today announced the upcoming launch of the Nanoleaf Smart Holiday String Lights, which are able to integrate with Matter-compatible smart home platforms like HomeKit.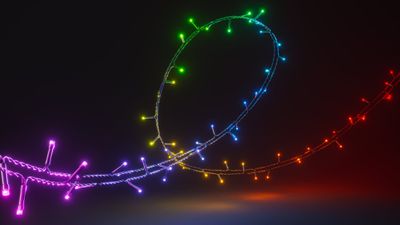 The two 10-meter light strands include 250 addressable LEDs that can be set to 16 million colors and multiple shades of white that range from 2700 to 6500K. With IP44 water resistance, the 250 lumen lights are able to be used indoors or outdoors.
Lights can be controlled with the Nanoleaf app, with the Home app, or with Siri voice commands. With the Nanoleaf app, there are customizable color palettes and light animations, plus an option to sync with music that's playing. There are nine preset scenes such as Holiday Magic and Crackling Fireplace.


Because Nanoleaf's lights are Matter-enabled, a Matter-compatible smart home hub like the HomePod mini or recent Apple TV 4K is required to use them with ‌HomeKit‌. The lights can be controlled via Wi-Fi, Bluetooth, and Matter over Wi-Fi, plus there are physical controls available in case a smart device is not around when you want to change the color or turn the lights off.
The Nanoleaf Smart Holiday String Lights can be pre-ordered from the Nanoleaf website for $120. Orders will begin shipping in mid-October.