Apple Suggests Potential Fixes for Weather Complication Bug on Apple Watch
Apple on Tuesday offered two potential fixes for the recently reported Apple Watch issue where watch face Weather complications fail to load data.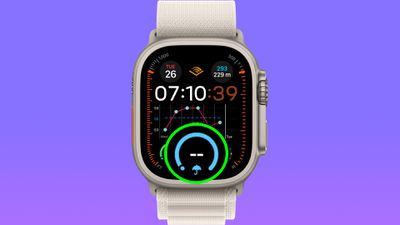 Apple Watch owners have been complaining of malfunctioning Weather complications since the launch of watchOS 10, with both the initial launch and watchOS 10.0.1 affected. Those impacted are seeing a blank reading where the weather data should be, but tapping into the Weather app shows the expected information.
In a new support document titled "If the Apple Watch Weather complication isn't working," Apple suggests users affected by the issue try the following:
Reset iPhone Settings
On your iPhone, open the Settings app, then tap Privacy & Security -> Location Services.
Scroll down and tap Weather.
Under Allow Location Access, tap Never, then tap your original setting.
Check whether the issue is resolved.
If weather data still doesn't load, Apple suggests trying these steps:
On your iPhone, open the Settings app, then tap General -> Transfer or Reset iPhone.
Tap Reset -> Reset Location & Privacy.
If prompted, enter your passcode and reset.
Check whether the issue is resolved.
Apple on Tuesday also released a new watchOS 10.0.2 update, which was initially thought to resolve the Weather complication issue, but it seems that a number of users did not see any permanent resolution after updating.
Did either of Apple's suggested fixes work for you? Let us know in the comments.