France Orders End to iPhone 12 Sales Over Radiation Level Concerns
France on Tuesday ordered Apple to halt iPhone 12 sales and "fix" existing devices over fears the devices emit too much electromagnetic radiation (via France24).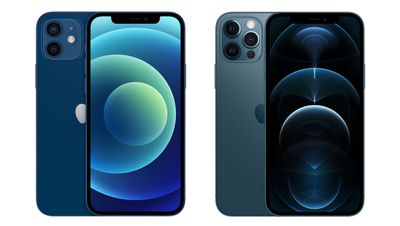 The French agency that regulates radio frequencies, the ANFR, said on its website that testing found the ‌iPhone‌ 12 emits more electromagnetic waves susceptible to be absorbed by the body than permitted.
The ANFR ordered Apple to "remove the ‌iPhone‌ 12 from the French market from September 12 due to the model exceeding the limit" for electromagnetic absorption by the body. The agency also told Apple to recall every ‌iPhone‌ 12 it has ever sold in the country. Apple launched the ‌iPhone‌ 12 in 2020 and it is still sold across the globe.
"Concerning phones already sold, Apple must in the briefest of delays take corrective measures to bring the affected phones into compliance," said the ANFR in a statement on its website. "Otherwise, Apple will have to recall them."
The ANFR said the device's Specific Absorption Rate (SAR) was 5.74 watts per kilogram, which is above the limit set by the European Union for a phone when held or kept in a pocket. The ANFR said it intends to share its findings with other EU regulators.
The findings contradict advice given by the World Health Organization (WHO). According to the WHO website, based on data from a large number of studies, "no adverse health effects have been established as being caused by mobile phone use."
Apple told the BBC it was contesting the ANFR's review, and said it had provided the regulator with its own lab results as well as third parties which show the device is compliant with all the relevant rules. Apple said the ‌iPhone‌ 12 was recognised as being compliant with regulations on radiation levels worldwide.
This isn't the first time Apple has come under regulatory scrutiny in the country. Under a previous French law, Apple was until January 2022 lawfully obligated to include EarPods in the box based on the precautionary principle, because regulators said the risks of exposing developing brains to electromagnetic waves are not clearly known.
France in 2020 also widened regulations requiring retailers to display the radiation value of products on packaging beyond smartphones, including tablets and other electronic devices.
As for the ‌iPhone‌ 12 order, Apple must respond to it within two weeks, the ANFR said.
Note: Due to the political or social nature of the discussion regarding this topic, the discussion thread is located in our Political News forum. All forum members and site visitors are welcome to read and follow the thread, but posting is limited to forum members with at least 100 posts.