Apple Releases New Firmware for AirPods Pro, AirPods, and AirPods Max
Apple today introduced a new firmware update for the AirPods Pro, ‌AirPods Pro‌ 2, AirPods 2, AirPods 3, and AirPods Max. The new firmware is 6A301 for the ‌AirPods Pro‌ 2 and 6A300 for the first-generation ‌AirPods Pro‌, the standard AirPods, and the ‌AirPods Max‌.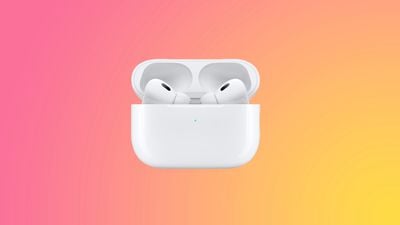 Apple does not provide details on what features might be included in the refreshed firmware, so it is unclear what's new. There are multiple new ‌AirPods Pro‌ 2 features coming in iOS 17, so the ‌AirPods Pro‌ 2 update likely brings that functionality.
Apple has been testing an ‌AirPods Pro‌ 2 firmware beta for the last few months, and it has been available to developers. ‌iOS 17‌ brings Adaptive Audio, which combines ANC and Transparency to deliver an ideal audio experience that blocks out loud or distracting noises.
Adaptive Audio includes Conversation Awareness and Personalized Volume. Conversation Awareness detects when someone speaks to you, lowering the volume of what's playing and cutting down on background noise so you can hear. Personalized Volume takes into account your listening preferences and the noise in the environment to adjust sound levels.
Other new features include an option to mute and unmute the microphone by pressing on the ‌AirPods Pro‌ stem, faster automatic switching between devices, and support for activating Siri without including the "Hey" wake word.
Apple does not offer instructions on how to upgrade AirPods software, but firmware is generally installed over-the-air while the ‌‌AirPods‌‌ are connected to an iOS device. Putting the ‌‌‌‌‌AirPods‌‌‌‌‌ in the case, connecting the ‌‌‌‌‌AirPods‌‌‌‌‌ to a power source, and then pairing the ‌‌‌‌‌AirPods‌‌‌‌‌ to an iOS device or Mac should force the update.
You can check your ‌‌‌AirPods‌‌ or ‌‌‌‌‌‌‌AirPods Pro‌‌‌‌‌‌‌‌ firmware by following these steps:
Connect your ‌‌‌‌‌‌‌AirPods Pro‌‌‌‌‌‌‌ to your iOS device.
Open the Settings app.
Tap General.
Tap About.
Tap ‌‌‌‌‌AirPods‌‌‌‌‌.
Look at the number next to "Firmware Version."
If we learn more about what's new in these firmware releases, we'll update this article.