Apple Adds 6TB and 12TB iCloud+ Storage Tiers
Apple today announced new 6TB and 12TB storage tiers for its iCloud+ subscription service, pushing past 2TB for the first time.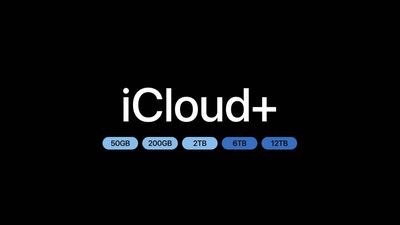 Every Apple ID receives 5GB of free cloud storage, but users can upgrade to a paid ‌iCloud‌+ storage subscription plan to get 50GB, 200GB, 2TB, 6TB, or 12TB of storage. All paid ‌iCloud‌+ storage plans include features like ‌iCloud‌ Private Relay, Hide My Email, and Custom Email Domains. Currently, subscribers pay $0.99 per month for 50GB of cloud storage, $2.99 per month for 200GB, and $9.99 per month for 2 TB.
The new 6TB ‌iCloud‌+ will be priced at $29.99 per month and while the 12TB plan costs $59.99 per month. For comparison, Google's 5TB and 10TB cloud storage plans cost $24.99 and $49.99 per month.
The higher storage tiers provide an option for those who had already filled 2TB of storage from ‌iCloud‌+ and 2TB of storage from an Apple One subscription. Like other ‌iCloud‌+ subscription plans, the pool of cloud storage can be shared among up to six people via Family Sharing. The bigger ‌iCloud‌ plans are set to become available on Monday, September 18.