Astropad Debuts Screen Protector and Apple Pencil Tip for a Realistic Paper Feel on iPad
Astropad, the company behind the Luna Display and Astropad Studio app, today announced the launch of Rock Paper Pencil, a new screen protector and Apple Pencil tip kit that are designed to mimic the feel of writing with a pen on paper.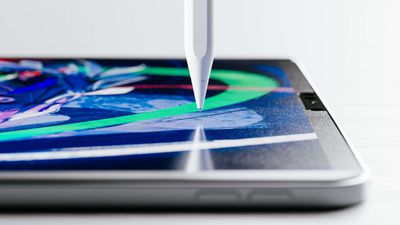 According to Astropad, Rock Paper Pencil is meant to have "unmatched realism" thanks to the combination of the custom ‌Apple Pencil‌ tip and screen protector engineered to match. Unlike most screen protectors available, the Rock Paper Pencil screen protector is magnetic, removable, and reusable. It snaps onto an iPad and can be removed when not needed for writing purposes.
The screen protector has "nano-texture technology" that mimics the texture of paper and also cuts down on glare, while the ‌Apple Pencil‌ tip is made from metal and similar in design to a ballpoint pen tip. Astropad says that it is more precise than the ‌Apple Pencil‌, and it is able to screw right on to the ‌Apple Pencil‌ 2.
Astropad is selling the Rock Paper Pencil in two sizes, including 12.9-inch to fit third-generation and newer iPad Pro models and 11-inch to fit the 11-inch ‌iPad Pro‌ and the iPad Air.
The Rock Paper Pencil kit can be purchased from the Astropad website for $31.99 at the current time, as there is a 20 percent launch discount available.