Apple Retail Stores to Offer Customers Home Delivery Option
Apple retail store staff will soon be able to offer customers home delivery during the ordering process, rather than them having to carry purchased products home.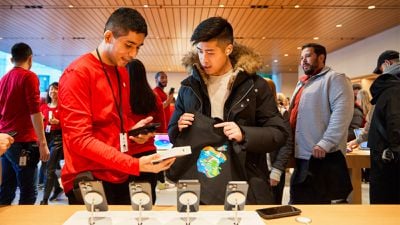 Writing in his latest Power On newsletter, Bloomberg's Mark Gurman reports that the EasyPay machines Apple salespeople use when processing in-store product purchases are set to include an option for home shipping for the first time.
Not only will the new option make it more convenient for shoppers buying bulky products like an iMac or Mac Pro, it also means that if an item is out of stock, the store can still book the sale and avoid situations where customers leave empty-handed to look elsewhere.
Currently, Apple store staff are only able to help customers order larger or out-of-stock products online via Apple's website using a shop floor demo Mac or iPad, or by going onto the web themselves using their EasyPay device.
Gurman believes the new option could be effective in reducing the physical space required for stock in future stores. He also suggests the move could aid Apple's retail sales strategy for its Vision Pro headset, which will be complicated by the many different custom combinations of head bands, light seals, and prescription lens inserts.
If any aspect of the customer's required Vision Pro setup is out of stock at the store, the missing part can be shipped directly to them, thereby avoiding a potential no-sale.
According to a memo sent to retail store staff, the new program is called EasyPay Online Ordering and will roll out in early August.