AppleDB Offers Useful Database of Apple Devices, Software Updates, Firmware Releases, and More
Launched in 2022, AppleDB is a helpful resource that provides a database of Apple devices, software updates, firmware releases, and more. The website was recently updated with all macOS releases and beta versions dating back to Mac OS X Tiger in 2005.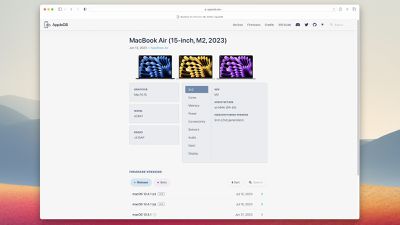 AppleDB catalogs over 4,000 software and firmware versions for a wide range of Apple products, along with model numbers, model identifiers, tech specs, release dates, and other information. This includes iOS, iPadOS, macOS, watchOS, tvOS, visionOS, and HomePod software releases, along with firmware for accessories like AirPods, Beats, the Studio Display and Pro Display XDR, the AirTag, MagSafe accessories, and more.
The database also lists bridgeOS versions for the T1 and T2 security chips in Intel-based Macs, Xcode versions, Safari Technology Preview releases, and more.
AppleDB is worth bookmarking if you are an Apple enthusiast, and the database will be updated with additional information over time, such as software releases for PowerPC-based Macs. The public can contribute to the database by making a pull request on GitHub, with all information subject to review. The website has a Discord server and a Twitter account where users can chat with the community and read the latest updates.