Cheaper Apple Vision Headset Likely to Launch by End of 2025
Apple still plans to launch a more affordable version of its Vision Pro headset by the end of 2025, with the non-Pro model likely to be called "Apple Vision One," or more simply, "Apple Vision," according to Bloomberg's Mark Gurman.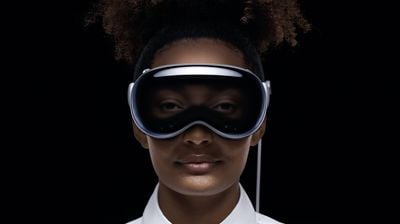 Writing in his latest Power On newsletter, Gurman reiterated his understanding that Apple is working on a cheaper version of its headset, signaling that it is pursuing a two-product strategy, like it does by offering a standard iPhone and iPhone Pro.
Since the Vision Pro's $3,499 price is thought to be at or near the cost to make it, Gurman speculates that Apple could replace the twin 4K microLED displays and M2 Apple silicon chip with cheaper alternative components, and use fewer cameras.
The company could also go with a simpler headband design with no integrated speakers, requiring wearers to use AirPods for spatial audio instead. However, there are a few things Gurman believes Apple will not compromise on:

"The external screen, known as EyeSight, to show a wearer's eyes, as well as the eye- and hand-tracking system, are as core to the Apple Vision as a touchscreen is to an iPhone. I would expect a cheaper model to keep those features."
Speculating on headset rumors before Apple unveiled Vision Pro, some commentators suggested it would make no sense to add the financial cost of an outward-facing display to the already expensive device and sap its battery life even quicker, but Apple clearly regards the EyeSight feature as a key differentiator from enclosed AR/VR headsets, and the one that allows users to feel like they remain in touch with other people.
Achieving cheaper material costs in other areas, combined with a more streamlined production process, could allow Apple to reduce the price of the headset by several hundred dollars, according to Gurman.
Apple's plan to release a cheaper version of its "spatial computing" headset was first reported in January by The Information and Bloomberg. Industry analyst Ming-Chi Kuo has also reported Apple's intention to have a two-tiered headset category lineup by the end of 2025.