Vision Pro to Get Even More Human-Like 'Spatial Personas' for FaceTime
Apple's new Vision Pro headset can scan a user's face and use advanced machine learning to create a photorealistic "Persona" of them for video calls. And in a future visionOS update, these avatars will become even more realistic.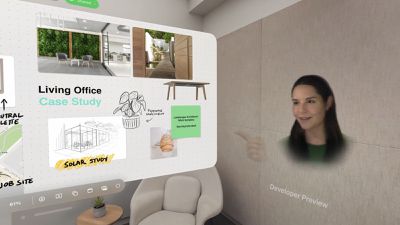 Spatial Persona on Vision Pro
In its
Platforms State of the Union video
for developers this week, Apple announced that it is working on "Spatial Personas" that will allow Vision Pro users to "break out of the familiar FaceTime tile and feel more present, like they are gathered in the same physical space." Spatial Personas will have a transparent background and be able to display more movement and body language for a more lifelike experience.

A regular Persona on Vision Pro
Spatial Personas will be available on FaceTime calls, including for SharePlay sessions.
"In a SharePlay session, Spatial Personas let you feel present with others in a way technology has never enabled before," said Apple, in a related WWDC video. "You can look your friends in the eye, express yourself naturally with movement and body language, and best of all, enjoy a shared activity together using your app."
Apple said a developer preview of Spatial Personas will be available later this year, but it did not indicate when the feature will be publicly released. Vision Pro does not launch until early 2024 in the U.S. and will be priced at $3,499.