iOS 17's StandBy Mode Turns a Charging iPhone Into a Home Hub
Apple in iOS 17 is introducing StandBy mode, which is a new display experience designed for a charging iPhone that's placed in a horizontal orientation. An ‌iPhone‌ in this position is able to display an array of full-screen widgets, turning it into a useful home hub.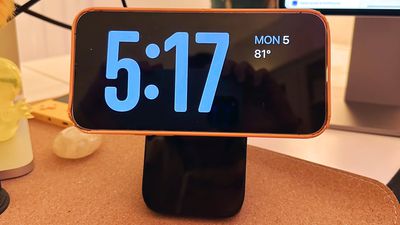 StandBy mode activates automatically on an ‌iPhone‌ running ‌iOS 17‌ that's placed horizontally on a charger. You can see information such as the time, weather, a calendar, music controls, your photos, and more.
You can swipe left or right through the available StandBy options, and long press or swipe up/down to customize. With the time, for example, you can choose from an analog view, a digital view, a bubbly font, and a solar view where the background color shifts based on the time.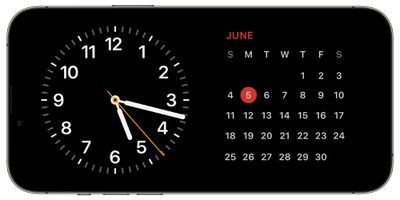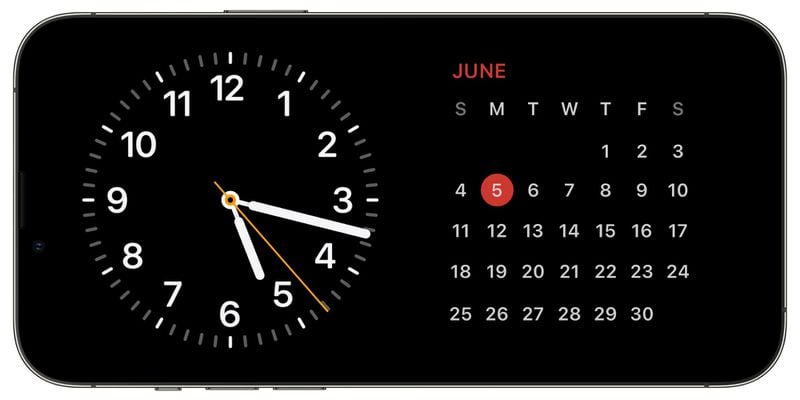 There are options to add Home Screen widgets to the main StandBy view, which is the first option you see when activating StandBy. In this view, you can select two widgets to display side-by-side, so you can control your HomeKit products, see your calendar events, keep an eye on the stock market, check on device battery life, see the weather, and more.
If a Live Activity is active, it will be displayed full screen, as will results from Siri requests.
At night, StandBy mode will get darker if the room you're in is dark, so that it is not distracting at night while you're sleeping. StandBy mode is akin to Nightstand Mode on the Apple Watch, and it functions in much of the same way.
Note that having the ‌iPhone‌ continually show information requires an iPhone 14 Pro or Pro Max with always-on display technology. On other iPhones, a tap is required to see what's on the screen.