AirPods Pro 2 Gaining 'Adaptive Audio' Feature That Dynamically Adjusts to Your Environment
Apple today announced three new features coming to AirPods Pro 2 in the fall: Adaptive Audio, Personalized Volume, and Conversation Awareness. Additionally, the entire AirPods lineup is gaining new and improved features to make calls and Automatic Switching easier to use.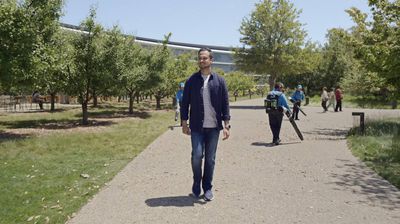 Starting with Adaptive Audio, this feature dynamically blends Transparency mode and Active Noise Cancellation together to deliver the best audio experience in the moment. Apple says that it can tailor the noise control while you move through your environment.
This way, loud or distracting noises surrounding you will be automatically reduced, while other noises will still be audible. Apple gave the example of leaf blowers getting reduced but sudden traffic noises coming through on the user's AirPods.
Similar to Adaptive Audio, Personalized Volume uses machine learning to fine-tune your listening experience by understanding environmental conditions and listening preferences.
There's also a new Conversation Awareness feature that will lower your music and focus on voices around you when you start talking. Adaptive audio helps when you're on a call as well, reducing noise around you while you speak.
For all models of AirPods, Apple is making it easier and faster to move between your Apple devices with updates to Automatic Switching. Additionally, a new mute and unmute feature is coming to AirPods 3, ‌AirPods Pro‌, and AirPods Max that allows you to quickly mute/unmute yourself by pressing the stem, or Digital Crown on ‌AirPods Max‌.