Apple Planning 53 New or Revamped Apple Store Locations Through 2027
Apple is planning to expand on its Apple Store efforts, introducing a number of new retail locations worldwide and overhauling several stores in the United States, reports Bloomberg.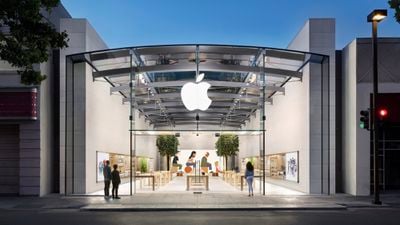 There are 15 new stores coming to the Asia-Pacific region, five stores coming to Europe and the Middle East, and four stores coming to the U.S. and Canada. Another 28 stores in Asia, Europe, and North America will be revamped or relocated, with Apple working on the updates through 2027.
Three of the Asia-Pacific stores will be in India, one will be in Malaysia, two will be in South Korea, and one will be at the Jing'an Temple Plaza in Shanghai, with Apple also planning to overhaul its Shinsaibashi store in Osaka, Japan. In Europe, Apple plans to upgrade its Paris Opéra location and open new stores at the Battersea Power Station in London and La Vaguada in Madrid.
New Apple retail locations are coming to Miami, Detroit, and Torrance, California, while stores in New Jersey, Alabama, Massachusetts, North Carolina, Ohio, Georgia, and Missouri will be relocated.
Apple recently redid Apple Tysons Corner in Virginia, introducing a total overhaul of its first-ever Apple retail location. The store features a physical Genius Bar, a flexible hardware space, and an in-person Apple Watch Studio, and it's possible that some of these features could come to the new stores that are planned.
Bloomberg says that Apple is primarily updating older, smaller stores, with full details on specific locations for the new stores available from the site.