Apple Teams Up With Pepsi for Free Music Subscriptions
PepsiCo is teaming up with Apple to offer Pepsi drinkers free Apple Music access this summer. As noted by AdAge, Pepsi today launched its "Press Play on Summer Campaign."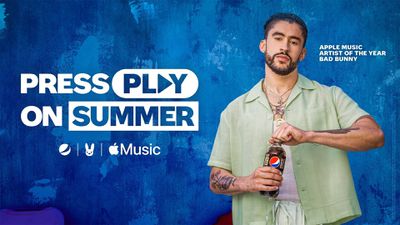 The ad blitz will see Pepsi offering 400 million 20-ounce bottles of Pepsi, Pepsi Zero Sugar, Pepsi Mango, Pepsi Wild Cherry, Mountain Dew, Mountain Dew Major Melon, Mountain Dew Spark, Mountain Dew Voltage, Starry, and Starry Zero Sugar with ‌Apple Music‌ QR codes. The codes, which are available starting today, will provide free three-month ‌Apple Music‌ memberships to new customers, trips to Apple music live events, and Beats headphones.
Pepsi plans to advertise the promotion throughout the summer months, starting with an ad featuring Puerto Rican rapper and singer Bad Bunny. Bad Bunny was Apple's 2022 Artist of the Year, and the "Un Verano Sin Ti" album was ‌Apple Music‌'s most streamed album in 2022.
Ads for the free ‌Apple Music‌ codes will be on TV, social networks, and other locations such as gas stations and convenience stores.

"We at Pepsi couldn't be more excited to kick off this historic partnership with Apple Music and Bad Bunny. Both Pepsi and Apple Music have such storied histories in the music space delivering first-of-its-kind experiences for our fans over the years, so it is only fitting that we join forces to create 'Press Play On Summer'," said Todd Kaplan, Chief Marketing Officer - Pepsi. "Bad Bunny is one of the biggest artists on the planet and we are thrilled to welcome him into the Pepsi family! We are excited to give fans unprecedented access to a host of music experiences and Bad Bunny's catalogue all summer long."
Pepsi and Apple first teamed up in 2003, with Pepsi offering 100 million song downloads from the iTunes Store.