Questionable Rumor Claims iOS 17 Features Redesigned Maps Lock Screen
iOS 17 will introduce a new iPhone experience for Apple Maps that integrates detailed turn-by-turn directions to the Lock Screen without taking over the display, claims a leaker with alleged insider information.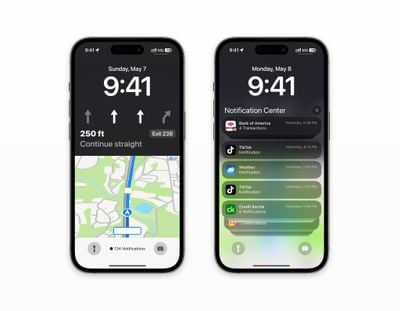 Concept render shared by Analyst941
Currently in iOS 16, when real-time Maps directions are active and the iPhone is locked, the Maps app takes over the screen and all other Lock Screen elements are hidden. According to
Twitter account Analyst941
, this will change in iOS 17, with Maps directions including live visual map data taking over a portion of the Lock Screen, but with app notifications and the Camera and Flashlight buttons remaining at the base of the display.
The leaker claims that app notifications will still be accessible by swiping up on the screen, while the physical act of unlocking the iPhone will remain a seamless transition. According to Analyst941, the new Maps Lock Screen interface will be coming to "all iPhones."
This is the first time we have heard about specific changes to Maps for iOS 17, and the leaker has made several other claims about iOS 17 that have yet to be corroborated. This rumor, and others like it, should therefore be taken with a grain of salt.
Bloomberg's Mark Gurman has expressed doubt about Analyst941's claims and believes that some of the information is inaccurate. We'll know more about their accuracy in just under a month when Apple unveils ‌iOS 17‌, watchOS 10, and other updates at the June 5 WWDC keynote.