Belkin Debuts New Connect 4-Port USB-C Hub Made From Post-Consumer Recycled Plastics
Popular Apple accessory maker Belkin recently introduced the Connect 4-Port USB-C Hub, which is the company's first U.S. product made from post-consumer recycled plastics (PCR). Belkin in January announced plans to transition to more environmentally friendly material for its products, and the launch of the hub is part of that effort.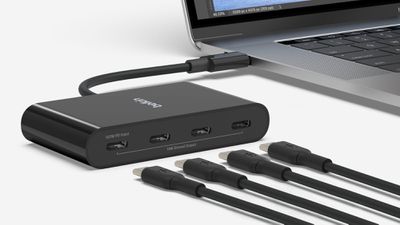 The Connect 4-Port USB-C Hub is made from 72 percent PCR in its product housing, a transition that was made without impacting the quality or the safety of the accessory. Made to be compact, the hub includes four USB-C 3.2 Gen 2 ports, and it supports pass-through charging of up to 100W. USB-C headphones and speakers are supported, and it works with Apple's Macs and iPads.
Belkin says that its new USB-C hub is the only hub on the market able to deliver a maximum of 10Gb/s, which is 2x faster than other available hubs. It's also using Fast Role Swap (FRS) in an effort to prevent data loss and interruption of device connections when adding or removing a power source from the hub.
Belkin's Connect 4-Port USB-C Hub is priced at $52 and it can be purchased from Amazon. Belkin also sells it directly for $45, but it is out of stock at the current time.