CES 2023: Belkin Transitioning to More Environmentally Friendly Material for Chargers and Other Accessories
Belkin, known for its accessories created for Apple devices, today announced plans to revamp its product lineup with more environmentally friendly materials. Several power banks, wireless chargers, and wall chargers will be updated with plastic-free packaging and will be constructed from 73 to 75 percent post-consumer recycled plastics (PCR).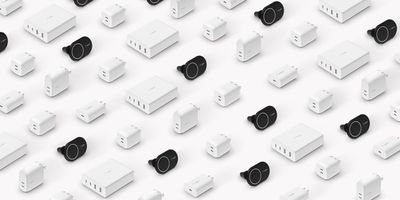 The change will save approximately 7,000 metric tons of carbon emissions and will reduce CO2-eq emissions for included products by up to 67 percent. Belkin plans to update some of its most popular products first, including a selection of wall chargers.
BOOST↑CHARGE Magnetic Wireless Car Charger 10W
BOOST↑CHARGE USB-C PD 3.0 PPS Wall Charger 25W
BOOST↑CHARGE Dual USB-C PD Wall Charger 40W
BOOST↑CHARGE PRO 4-Port GaN Charger 108W
BOOST↑CHARGE PRO Dual USB-C(R) GaN Wall Charger with PPS 45W
BOOST↑CHARGE PRO Dual USB-C(R) GaN Wall Charger with PPS 65W
Belkin is making this change as it celebrates its 40th anniversary. The company is already set to become 100 percent carbon neutral in scope 1 and 2 emissions by 2025, with today's update to PCR materials aimed at reducing scope 3 emissions.
The PCR that Belkin is using will remove plastic waste from landfills, and it will reduce Belkin's dependence on virgin plastics.
"When we think about the difference a company of our size and influence can make on the planet, moving away from using virgin plastics in our products is an obvious decision," said Steve Malony, CEO, Belkin. "I am proud to work alongside the teams that made this shared vision a reality. Their dedication to doing the right thing inspires me and together, we will continue to work towards a more sustainable future."
MacRumors was able to see Belkin's new PCR products and there is virtually no difference between the updated accessories and the existing accessories, so consumers will not be able to tell what's changed by looking at the products themselves. Belkin will denote new PCR products with callouts on the packaging and product pages online.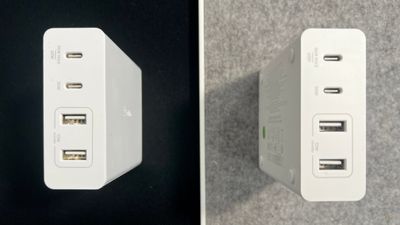 Belkin will ship the new accessories throughout 2023, and the company has plans to expand the PCR material to additional devices going forward.