Astropad Studio Gains Peer-to-Peer Networking for Faster Wireless Connection Between iPad and Mac
Astropad Studio, the app that is designed to turn the iPad into a drawing tablet for a Mac, is today gaining a major new networking feature that will cut down on latency.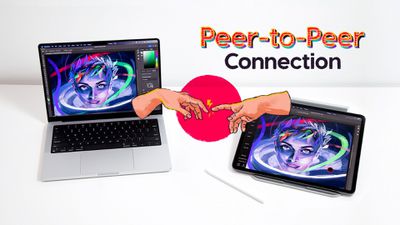 Peer-to-peer networking will allow an ‌iPad‌ to connect directly to a Mac using a wireless connection, which Astropad says will cut latency in half by bypassing the router. No cable between the two devices will be necessary, so this is a function that improves the wireless connectivity between two devices.
Astropad Studio users can take advantage of peer-to-peer connectivity even when a WiFi connection is not available
According to Astropad, peer-to-peer functionality removes the uncertainties of WiFi for artists who rely on Astropad Studio, introducing smooth and low latency drawing. Peer-to-peer connectivity works with all Astropad Studio features, including Apple Pencil integration, touch gestures, shortcuts, and more. I
Peer-to-peer is limited to Mac users and it is not available for those who use Astropad Studio with a PC. It requires an iOS device with iOS 13 or later and a Mac running macOS 10.15 or later.
Peer-to-peer networking is a free update for all current Astropad Studio users. Astropad Studio is priced at $99.99 per year, with a 14-day free trial available for testing it out, but there is a 20 percent discount through May 19. More information on the feature can be found on Astropad's blog.