TSMC Struggling to Make Enough 3-Nanometer Chips for Apple
Apple supplier TSMC is "straining" to produce enough of its newest 3-nanometer chips to meet demand for Apple's upcoming devices, according to a report from EE Times. Analysts believe TSMC is having issues with tools and yield, impacting the ramp up to volume production of the new chip technology.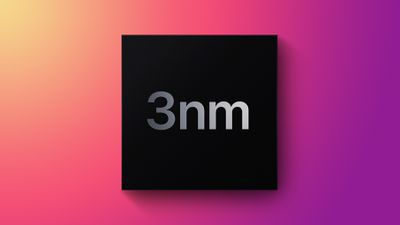 TSMC is manufacturing the 3nm A17 chips that are expected to be used in the iPhone 15 Pro models, plus it is working on Mac-series "M3" chips that are also expected to be built on the ‌3nm‌ process. Arete Research analyst Brett Simpson told EE Times that he estimates TSMC's yields for A17 and M3 processors are at approximately 55 percent, which is appropriate for the stage of development TSMC is at. "TSMC looks on schedule to boost yields by around 5+ points each quarter," he said.
Last week, TSMC CEO C.C. Wei said that while the company has reached "high-volume production with good yield," demand from customers exceeds its ability to supply. During the second half of the year, TSMC will ramp up production of A17 and M3 chips for Apple, while also working on chips for Intel, AMD, and Nvidia.
TSMC's 3-nanometer chip technology is cutting edge, and it is the only company aside from Samsung that is able to manufacture chips on a ‌3nm‌ process. Compared to the current 4nm process used for Apple's iPhone 14 Pro chips, the ‌3nm‌ process brings both speed and efficiency improvements.
Once ‌3nm‌ production is well established, TSMC will move on to 2nm. TSMC is expected to start production on the 2nm node in 2025.