Apple to Soon Let Users Fix Subscription Billing Issues Directly Within Apps
Apple will soon make it possible for users to fix App Store subscription payment issues within apps, rather than having to go into their device's Settings to make the necessary changes.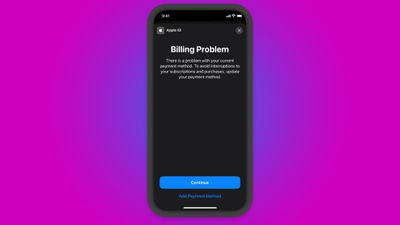 Currently if a third-party app has an issue with an auto-renewing subscription – if the payment method is no longer valid, for example – users must exit out of the app and make the changes in the Apple ID section of the Settings app.
This system often forces users to take out the subscription again, which can cause them to lose any in-app discounts or introductory subscription offers. However, that's set to change. From Apple's announcement on its developer website:

Starting this summer, if an auto-renewable subscription doesn't renew due to a billing issue, a system-provided sheet appears in your app with a prompt that lets customers update their payment method for their Apple ID. No action is required to adopt this feature.
The new in-app system should make it easier for users to resolve payment issues, says Apple, meaning developers should be better able to retain subscribers and benefit from in-app purchases.
When it goes live in the summer, Apple says the in-app billing issue resolution sheet will require iPhones and iPads to be running a minimum of iOS 16.4 or iPadOS 16.4, respectively.