Apple Preparing to Launch Apple Card Savings Account
Apple appears to be gearing up to introduce the Daily Cash savings account feature for Apple Card users, as mentions of a Daily Cash Savings account have been found in backend Apple code by Aaronp613.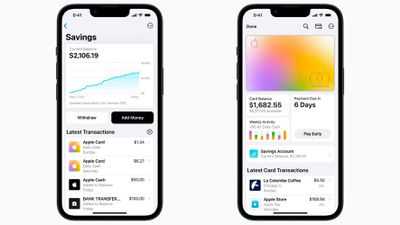 The appearance of the code indicates that Apple has furthered its work on the savings account, and that it will be introduced in the very near future. Prior to the March 28 launch of Apple Pay Later, references showed up in the code the day before, so there is a chance that the ‌Apple Card‌ savings account could launch as soon as this week.
The code contains the terms of service for the savings account, as well as images that Apple will likely use for the feature in the Wallet app and other locations. It mentions iOS 16.3, but it is not yet clear if iOS 16.3 will be required to sign up for and use an account.
Apple back in October announced plans to introduce a "high-yield" savings account for ‌Apple Card‌ users to store Daily Cash, with all Daily Cash earned automatically deposited into the account. Apple at the time said the savings account would be available "in the coming months," but there has not been an update since then.
‌Apple Card‌ users can sign up for the savings account through Goldman Sachs, Apple's financial partner for the ‌Apple Card‌. Like the ‌Apple Card‌, the savings account will be managed using the Wallet app on iPhone or the Wallet section of the Settings app on the iPad.
While Daily Cash will be automatically deposited in the account once it is created, ‌Apple Card‌ users can opt to change where their Daily Cash is delivered in the future. There are also options for depositing additional money into the savings account through a linked bank account or through an Apple Cash balance. Funds can be withdrawn at any time with no fees or penalties.