iOS 16.4 Includes New Apple Podcasts App Features Across iPhone and CarPlay
iOS 16.4, iPadOS 16.4, and macOS 13.3 were released today with several new features for Apple's Podcasts app across the iPhone, iPad, Mac, and CarPlay.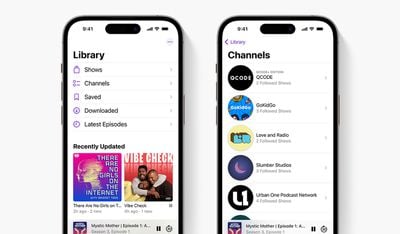 First, a new Channels menu in the Podcasts app provides a list of podcast channels all in one place on the iPhone, iPad, and Mac. A channel allows a creator or brand to list all of their podcasts in one place for listeners to easily discover.
Second, the Up Next queue now includes episodes listeners have saved to their Library and episodes that they play from shows they do not follow:
For example, when a listener plays an episode of a show before deciding to follow it, that episode will now remain in Up Next until the listener finishes it, marks it as played, or removes it. New episodes from followed shows and recently saved episodes will appear at the top of the Up Next queue while episodes that listeners have started and older saved episodes will appear toward the end. The latest episodes from recently followed shows appear at the start of Up Next. Also, episodes categorized with a "bonus" episode type will appear in Up Next.
Users also have more tools to manage Up Next. For example, they can touch and hold a show's artwork to remove it from the queue.
Third, users are now able to view how many unplayed episodes are available for them at the top of each show page, identify "early access" subscriber episodes that are made available to them as part of their Apple Podcasts subscriptions, and more.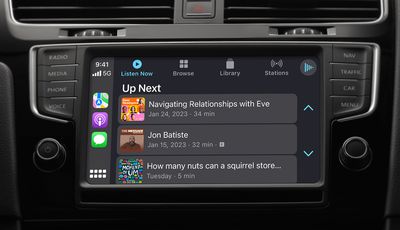 Fourth, iOS 16.4 includes Podcasts app improvements for CarPlay, including access to the Up Next and Recently Played queues from Listen Now in CarPlay. And in the Browse tab, there are now editorially curated podcast recommendations.
More details can be found in the "What's new for Apple Podcasts" post on Apple's website.