Brave Browser's Firewall + VPN Service Expands to Desktop, Gains Cross-Platform Functionality
Alternative browser company Brave today announced that its Firewall + VPN service has expanded to the desktop, which means it is available for use on Macs and PCs in addition to iPhones, iPads, and Android devices.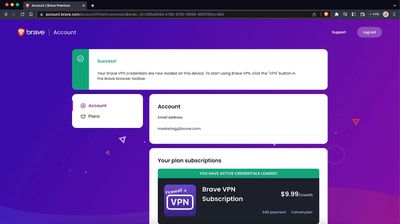 Brave has long offered a VPN service on the iPhone and iPad, but now it will be available cross-platform for Brave users. The Brave VPN subscription is priced at $9.99 per month or $99.99 per year, and with the new cross-platform functionality, it can be used on a total of five devices at once.
Brave's browser is designed to block ads and trackers for a more private browsing experience that prevents tracking across websites, but the Brave Firewall + VPN protects against trackers outside of the Brave browser as well. It blocks websites and apps from accessing IP address and location information, while the firewall portion of the service blocks trackers and "other online nuisances."
Brave VPN subscribers can activate the service on Mac by opening up the Brave browser, going to the Settings menu, and toggling on the VPN.
The desktop VPN option is rolling out to users in various regions over the next few days, and Brave says that users should check back "soon" if it is not already available today. ‌iPhone‌ and Android users can log into their accounts and link more mobile or desktop devices.