Tweetbot and Twitterrific Users Can Support the Developers by Declining Subscription Refunds
Popular Twitter clients Tweetbot and Twitterrific stopped working overnight in January after Twitter disabled the API used by third-party apps. Twitter gave zero warning that the apps were being blocked from accessing Twitter content, and in fact made no statement on the situation for well over a week.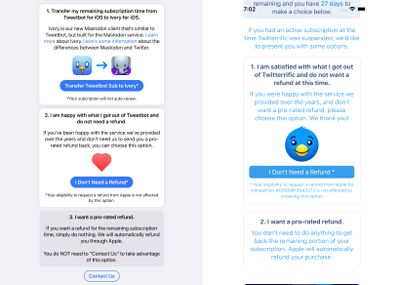 Twitter then officially updated its terms of service to ban all apps similar to the Twitter app. Twitter clients that had been operating for more than a decade were all of a sudden banned, with no communication from Twitter, no heads up, and with no way for the developers to figure out a way to carefully unwind their businesses and communicate the shutdown to customers.
Tweetbot and Twitterrific, two of the most used Twitter clients, had subscription offerings and thousands of customers that paid for subscriptions on a yearly basis. With the apps unable to function, pro-rated refunds are set to be automatically issued to subscribers next month, which will heavily impact businesses that had no warning their income stream would be cut off.
Those refunds are going to be paid largely by Tweetbot and Twitterific rather than Apple. As John Gruber points out on Daring Fireball, this is akin to a person getting fired and then having to pay back their last six months of salary. It is a significant financial blow to app developers put out of business by Twitter's snap decision.
Tweetbot and Twitterrific have teamed up to offer multiple options to customers who are due refunds, and customers who want to help need to do the following:
Open Tweetbot or Twitterrific (or redownload the apps if they've been deleted and open them).
Choose the "I don't need a refund button." Alternatively, for Tweetbot, choose to transfer the subscription over to the new Ivory app for Mastodon.
Because refunds are being issued automatically, Tweetbot and Twitterrific customers who have been happy with their service and want to help the developers out will have to manually opt out using this method.
Customers who do want a refund can do nothing and will receive a pro-rated refund on March 28. Anyone who does not hit that "I don't need a refund button" will get their money back for the months that were left on the subscription at the time that the apps stopped functioning.
The apps have already been unavailable for more than a month, which means Tweetbot and Twitterific have no way to contact customers who are likely no longer even opening up the apps, or who have already deleted them entirely. Many customers will be issued refunds without even electing to be refunded as it is an automatic process without the manual opt-out.
Twitterrific developers Iconfactory and Tweetbot developers Tapbots both have other apps, but Tweetbot and Twitterrific were their main apps. Apple will require them to pay between 70 and 85 percent of each refund, depending on how long each person was subscribed (70% for those subscribed for less than a year, and 85% for those subscribed over a year). Apple will pay the remaining 15 to 30 percent, as that is the cut that Apple had been taking from subscriptions.
Tapbots has already transitioned to Mastodon and offers the Ivory client on both iPhone and Mac, while Iconfactory is focusing on its other apps like Linea Sketch.