Apple Responds to EU's Decision to Narrow Antitrust Case Prompted by Spotify
The European Commission today announced it has narrowed its antitrust investigation into Apple's rules for streaming music apps. In a revised Statement of Objections sent to Apple, the Commission said it will no longer challenge Apple's requirement for apps to use the App Store's in-app purchase system for digital goods and services. The investigation began in 2019 after Spotify filed an antitrust complaint against Apple.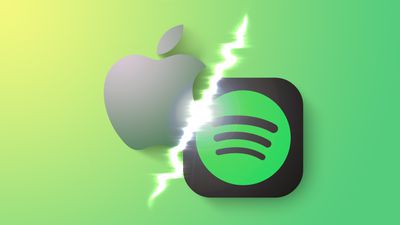 The investigation will now focus entirely on Apple preventing streaming music apps from informing iPhone and iPad users within the app that lower subscription prices are available when signing up outside of the App Store. Subscriptions can sometimes cost extra when initiated through the App Store compared to directly on an app's website, as developers look to offset Apple's 15% to 30% fee on in-app subscriptions.
The Commission's preliminary view is that Apple's rules equate to "anti-steering" and "unfair trading conditions," in breach of EU antitrust law. The Commission added that the rules are "detrimental to users of music streaming services on Apple's mobile devices" given they may end up paying more and "negatively affect the interests of music streaming app developers by limiting effective consumer choice."
In a statement shared with MacRumors, an Apple spokesperson said the company is "pleased" that the Commission has narrowed its case:
Apple will continue to work with the European Commission to understand and respond to their concerns, all the while promoting competition and choice for European consumers. We're pleased that the Commission has narrowed its case and is no longer challenging Apple's right to collect a commission for digital goods and require the use of the In-App Payment systems users trust. The App Store has helped Spotify become the top music streaming service across Europe and we hope the European Commission will end its pursuit of a complaint that has no merit.
Spotify no longer allows customers to subscribe through its iPhone app. A message in the Premium tab of the app informs customers that they "can't upgrade to Premium in the app" and says "we know, it's not ideal." The tab does not provide any information or external links related to subscribing on Spotify's website.
Apple's App Store Review Guidelines allow developers to inform users about alternative purchasing methods with communication outside of the app, such as email. "Reader" apps such as Spotify can also include an in-app link to their website for users to set up or manage their accounts. Ultimately, though, Spotify still cannot advertise the lower subscription prices available through its website within its iPhone app.
As part of its response, Apple said it always promotes competition, is only one of many competitors in the streaming music market in Europe, and that the iOS app economy supports 2.2 million European jobs. Apple also cited reports finding that Spotify is among the most successful apps on the App Store and a dominant business.
Note: Due to the political or social nature of the discussion regarding this topic, the discussion thread is located in our Political News forum. All forum members and site visitors are welcome to read and follow the thread, but posting is limited to forum members with at least 100 posts.