Apple Orders Entire Supply of TSMC's 3nm Chips for iPhone 15 Pro and M3 Macs
Apple has reportedly secured all available orders for N3, TSMC's first-generation 3-nanometer process that is likely to be used in the upcoming iPhone 15 Pro lineup as well as new MacBooks scheduled for launch in the second half of 2023.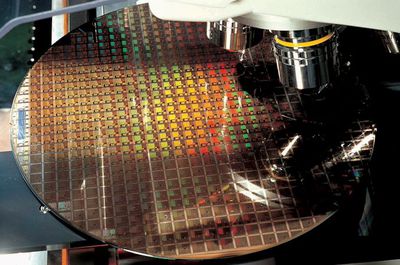 According to a paywalled DigiTimes report, Apple has procured 100% of the initial N3 supply, which is said to have a high yield, despite the higher costs involved and the decline in the foundry's utilization rate in the first half of 2023. Mass production of TSMC's 3nm process began in late December, and the foundry has scaled up process capacity at a gradual pace with monthly output set to reach 45,000 wafers in March, according to the report's sources.
Apple is widely expected to adopt TSMC's 3nm technology this year for the A17 Bionic chip likely to power the iPhone 15 Pro and iPhone 15 Pro Max models. The 3nm technology is said to deliver a 35% power efficiency improvement over 4nm, which was used to make the A16 Bionic chip for the iPhone 14 Pro and Pro Max.
The latter two iPhone models were the first smartphones to feature chips built on the 4nm process, and it looks like Apple is again attempting to be first to market with models based on the latest cutting-edge semiconductor technology.
Apple plans to release a new MacBook Air in the second half of 2023, and it may be equipped with a 3nm chip, according to a January report from DigiTimes. However, display industry analyst Ross Young in December claimed that a 15-inch MacBook Air would be released in the first half of 2023. If DigiTimes' outlook turns out to be accurate, then perhaps both 13-inch and 15-inch MacBook Airs with M3 chips based on 3nm technology will launch in the second half of 2023 instead.
Looking further ahead, Apple analyst Ming-Chi Kuo believes 14 and 16-inch MacBook Pros coming in 2024 will feature M3 Pro and ‌M3‌ Max chips that are built on TSMC's 3nm process. MacBook Pro models with the ‌M3‌ Pro and ‌M3‌ Max chips will go into mass production in the first half of 2024, according to Kuo.
The 3nm technology will offer improved performance and better power efficiency compared to the current chips manufactured on a 5-nanometer process, including the M2 Pro found in Apple's current high-end Mac mini and the M2 Pro and ‌M2‌ Max used in its latest 14 and 16-inch MacBook Pro models.
TSMC is poised to move to N3E – an enhanced version of N3, its first-generation 3nm technology – to commercial production in the second half of this year, and Apple will be the first customer to adopt the process, according to another report this week from DigiTimes. Nikkei Asia reported in September that Apple could adopt N3E for devices launching as soon as this year, but we've not seen any other reports corroborating this roadmap.