Apple's Communication Safety Feature for Children Expanding to 6 New Countries
Earlier this month, we noted Apple was working to expand its Communication Safety feature to additional countries, and it appears the next round of expansion will include six new countries.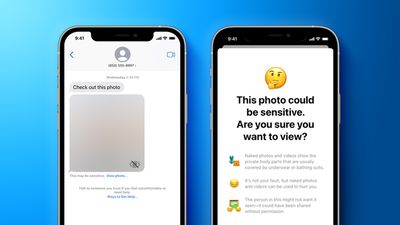 Communication Safety is an opt-in feature in the Messages app across Apple's platforms that is designed to warn children when receiving or sending photos that contain nudity. In the coming weeks, it will be expanding to the Netherlands, Belgium, Sweden, Japan, South Korea, and Brazil.
The news was shared by Apple in a briefing with news outlets in the relevant countries and was reported by Dutch site iCulture [Google Translate].
The Communication Safety feature initially launched only in the United States in late 2021 before expanding to the United Kingdom, Canada, Australia, and New Zealand a few months later. Within the past few months it has expanded further to France, Germany, Italy, and Spain.
When the feature is enabled, photos containing nudity are blurred and the child will be warned, presented with helpful resources, and given the option to message someone they trust for help if they choose, according to Apple. Scanning of photos takes place entirely on-device with Apple not gaining access to the messages, which remain end-to-end encrypted. No notifications are automatically sent to parents or others.
Communication Safety is one aspect of Apple's efforts to help protect children online. In December, Apple abandoned previously announced plans to detect known Child Sexual Abuse Material (CSAM) stored in iCloud Photos after criticism from a wide range of parties including security researchers, policy groups, and politicians over issues such as the potential for false positives or the creation of "backdoors" that could let governments or law enforcement agencies surveil users by scanning for other types of photos.