Primate Labs Launches Geekbench 6 Benchmarking Suite
Primate Labs today announced the launch of Geekbench 6, the newest version of the company's cross-platform benchmarking suite. Geekbench 6 is an upgrade from the existing Geekbench 5 that was introduced in 2019, and it includes support for new hardware standards along with results that better mimic real-world device performance.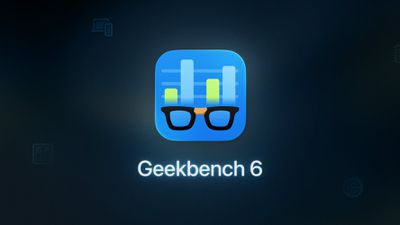 The updated software navigates away from heavy reliance on pure single-threaded CPU numbers, with machine learning and other workloads changing the way that benchmarks need to work. Testing datasets have been replaced to better "reflect modern hardware and applications."
Bigger photos in resolutions captured by modern smartphones (12 to 48MP)
HTML examples representative of modern web design standards
A larger library of images for import tests
Larger maps for navigation tests
Bigger and more modern PDF examples
An increase in Clang workload size.
Primate Labs says that the tests are able to better represent the file types customers are likely to use or interact with in 2023, and are closer to workloads used by apps. Geekbench 6 has been updated to take better advantage of the GPU for machine learning for more accurate cross-platform comparisons.
Multi-core benchmarking has been overhauled and is designed to measure how cores share workloads in true-to-life workload examples, and there are a number of new tests that measure how people use devices. Existing tests have been updated as well.
Background blur, as during video conferences
Photo filters, similar to those used by modern social media apps
Object detection for AI workloads
Photo library for importing and semantic tagging photos and metadata
Text processing for parsing and converting things like markdown and regex in Python (more true to real developer use cases)
Geekbench 6 is free for all non-commercial personal use, while the Pro version of the software is priced at $79 for the next two weeks thanks to a 20 percent launch discount. Pro functionality adds command-line automation, offline result management, and more. Geekbench 6 can be downloaded from the Geekbench website.