Sonos Working on New 'Era' High-End Speakers
Popular speaker company Sonos is developing new high-end smart speakers that will compete with Apple's HomePod and HomePod mini, according to reports from The Verge. The Era 300 and the Era 100 will launch in the coming months, and have been in development since mid-2022.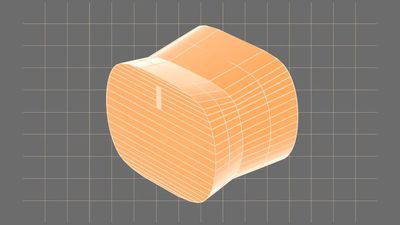 A 3D rendering of the Sonos speaker, created by The Verge


The multidirectional Era 300 will be the new Sonos flagship speaker, featuring support for Dolby Atmos and spatial audio tracks. The Verge says that the speaker will offer "the richest fidelity of any single speaker" in Sonos' history. Other features will include USB-C line-in, Wi-Fi 6 support, and possibly, Bluetooth playback.
Fewer details are known about the Era 100, but both of the new speakers will have a refreshed design, automatic tuning, and sound optimization. The Era 100 could be a replacement for the more affordable Sonos One.
There is no launch date for the new Era speakers, nor have price points leaked. The speakers will compete with the $299 ‌HomePod‌ 2, which came out last week. Sonos is also developing a second-generation "Move" speaker that will replace the current model, and it is planning to enter a new product category in 2023 that is as of yet unknown.