Eddy Cue Shares Letter Reflecting on Apple's Services in 2022
Apple today highlighted the success of its services in 2022, including the App Store, Apple Music, Apple Arcade, Apple TV+, Apple Fitness+, Apple News+, Apple Maps, Apple Pay, Apple Card, Apple Podcasts, iCloud, and others.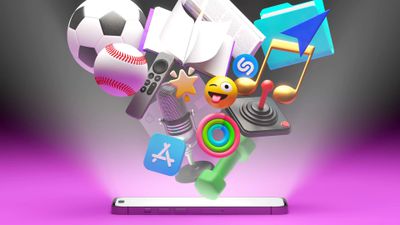 One notable statistic shared by Apple is that App Store developers have earned more than $320 billion since 2008. Meanwhile, Apple Fitness+ now has 3,500 workouts and meditations available in its library and Apple Music has over 100 million songs. More highlights are available on the Apple Newsroom website.
The press release includes a letter from Apple's services chief Eddy Cue, who reflected on a "groundbreaking year for entertainment."
2022 was a groundbreaking year for entertainment. At some point over the past year, you probably discovered a new app, a new song, a new TV show or movie, or game. An experience that made you laugh, taught you something new, or helped you see the world in a new way — and moved you to share it with others.

It's remarkable how much great content is at our fingertips; that's a testament to the extraordinary work of creators worldwide. Never before have we enjoyed instant access to more cinematic original series, more engaging films, more global music, more creative apps, more essential journalism, and more immersive games and sports — no matter where you are, across all your favorite devices.

At Apple, we have the privilege of partnering with creators of all kinds, while building products and services that enable even more creativity. Our mission has always been to enrich people's lives and to leave the world better than we found it, and we know that takes more than technical skill. It requires leading with our values in everything we do. We believe that our products and services should be made for everyone. We believe that privacy is a fundamental human right, and that our highest obligation to our customers is security. We believe that a culture where everybody belongs can drive innovation, and that we must stand up for the change we want to see in the world.

When we started Apple TV+ a few years ago, we did so to tell stories that reflect our broader humanity. And whether it was CODA winning the Oscar for Best Picture or Ted Lasso winning back-to-back Emmys for Best Comedy, we have seen, in so many ways, the validation of this kind of storytelling and the strong desire for more of it.

And believe me: There's much more to come. Moments to anticipate, enjoy, and reflect upon. Moments that will have us jumping up with excitement or at the edge of our seats, or that make us want to get up and dance. Moments that can create lasting memories and bring us closer to one another.

Last week marked my 34th anniversary at Apple, and I've never been more excited about what's ahead. This new year of Apple services will be our most exciting yet — and we can't wait to share it with you.
The press release comes one day after it was reported that Apple's vice president of services Peter Stern plans to depart the company at the end of January. Stern, a former Time Warner Cable executive, joined Apple in 2016 and was considered to be a candidate to succeed Cue as the company's services chief in the future. Apple has shared a similar press release highlighting its services in January since 2020.