CES 2023: Satechi Debuts 200W 6-Port Charger and Thunderbolt 4 Slim Hub
Satechi today announced the launch of new accessories designed for Apple's devices, including a 200W 6-Port PD GaN Charger and a Thunderbolt 4 Slim Hub.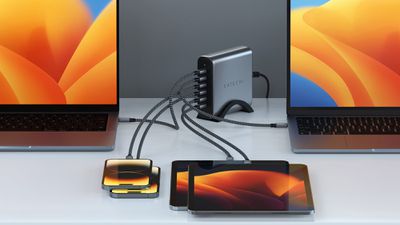 According to Satechi, the 200W 6-Port PD GaN Charger is its most powerful charger to date, offering two USB-C PD 3.1 ports and four USB-C PD 3.0 ports, charging up to six devices at the same time. With power distribution management, the power provided to each port changes depending on the number of devices plugged in.
The PD 3.1 ports can provide up to 140W of power, suitable for Apple's largest 16-inch MacBook Pro model, but the power will vary based on what's being charged.
Satechi's Thunderbolt 4 Slim Hub offers three Thunderbolt 4 downstream ports for daisychaining up to six Thunderbolt devices, along with a USB-A port and an upstream Thunderbolt 4 port that supports charging at up to 60W for connected devices.
With Thunderbolt 4 support, the hub offers transfer rates up to 40Gb/s. The three Thunderbolt 4 ports offer 15W charging for smartphones and tablets, along with the aforementioned fast transfer speeds, while the USB-A port supports transfer speeds of up to 10Gb/s.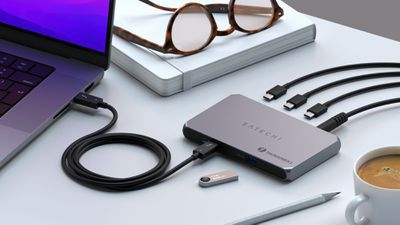 The hub is designed for Thunderbolt 3 and Thunderbolt 4 Macs that run macOS 11 and later, and it is able to support two 4K displays at 60Hz, one 8K display at 30Hz, or one 6K display on M1 and M2 Macs. It ships with a 100W power supply, which Satechi says will provide optimal power efficiency and distribution.
The 200W 6-Port PD GaN Charger can be preordered from the Satechi website for $150, though there is a 20 percent "CES20" discount code available. It will begin shipping in the second quarter of 2023.
The Thunderbolt 4 Slim Hub is available now for $200.