Apple Fitness+ to Add Kickboxing Workouts, Sleep Meditations, and More
Apple today announced that kickboxing is coming to Apple Fitness+ as a new total-body cardio workout type alongside a brand-new Sleep meditation theme, new Artist Spotlights, the fifth season of Time to Walk, and more.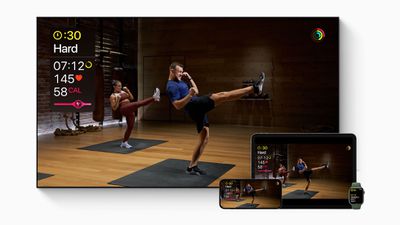 Apple says that kickboxing workouts can help to build full-body fitness, strength, stamina, coordination, and balance. Each workout will involve a distinct round of moves followed by a final round that combines the previous moves. No equipment is required, and workouts will be 10, 20, or 30 minutes long. It will be led by Jamie-Ray Hartshorne and Nez Dally – a new trainer joining the Fitness+ team. Kickboxing will launch on the platform starting on Monday, January 9.
Fitness+ will also launch two new workout Collections, including "6 Weeks to Restart Your Fitness" and "Level Up Your Core Training," on January 9 and January 23. Other than Nez Dally, two other new trainers are also set to join the Fitness+ team, with Brian Cochrane for HIIT and Jenn Lau for Strength.
Sleep joins the nine other themes in the Apple Fitness+ Meditation library, helping users to wind down before bed and drift off to sleep. Users are encouraged to begin with the Introduction to Meditations for Sleep program. New sleep meditations will be added every week.
Artist Spotlight, which dedicates an entire workout playlist to a single artist, will offer seven new workouts featuring Beyoncé and songs from her latest album, "RENAISSANCE." Artist Spotlights on the Foo Fighters will be available from January 16, followed by a spotlight on Bad Bunny from January 23.
The fifth season of Time to Walk will feature guests including Golden Globe-nominated actor Jamie Lee Curtis, late-night talk show host Amber Ruffin, actor and MacRumors fan Jason Segel, Spanish chef and World Central Kitchen founder José Andrés, actor and singer Sheryl Lee Ralph, Olympic champion figure skater Nathan Chen, actor and writer Colman Domingo, and German actor Nina Hoss.