CES 2023: GE Lighting to Release Cync Accessories With Matter/HomeKit Support
GE Lighting today announced that it will release its first Cync smart home accessories with support for Matter throughout 2023, starting with the Cync Full Color Direct Connect Smart Bulb and the Cync Indoor Smart Plug.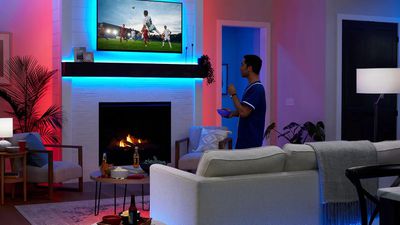 Unfortunately, GE Lighting said there are no plans for previously produced Cync products to receive retroactive Matter support at this time.
Matter is a connectivity standard that enables smart home accessories to work together seamlessly across multiple platforms, including Apple's HomeKit, Amazon's Alexa, Google's Home, and others. Apple added support for Matter on the iPhone, iPad, and Apple TV with iOS 16.1, iPadOS 16, and tvOS 16.1 last year, with a HomePod or Apple TV required to control Matter accessories in the Home app or with Siri.
As part of CES 2023 this week, GE Lighting introduced several new Cync products, including the Cync Dynamic Effects Smart Hexagon Panels, Cync Dynamic Effects Smart Neon-Shape Lights, and Cync Dynamic Effects Smart Bulbs. Pricing and availability information is outlined below, with additional details available in GE Lighting's press release.
Cync Dynamic Effects Indoor and Outdoor light strips are available today at Best Buy and Lowe's stores, and bestbuy.com and lowes.com, starting at $89.99. Extensions are also available for purchase. The roll out of the four new Cync Dynamic Effects products will begin March 2023 and prices range from $19.99-199.99.
Cync was previously known as C by GE. The rebrand occurred after GE Lighting was acquired by Savant Systems in 2020.