Apple TV+ to Stream Live MLB Games With Weekly 'Friday Night Baseball' Doubleheader
Apple and Major League Baseball today announced that a weekly "Friday Night Baseball" doubleheader is coming to Apple TV+ for the 2022 season, which is currently postponed due to a labor dispute between the MLB and the MLB's Players Association.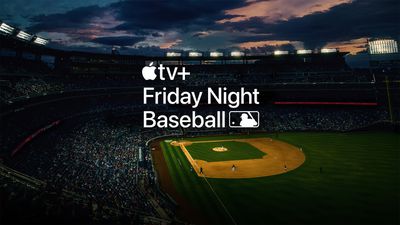 "Friday Night Baseball" will provide MLB fans with two marquee games to watch live on Friday nights each week during the regular season, complete with pregame and postgame shows. In the United States and Canada, Apple TV+ subscribers will also have access to a new 24/7 livestream with MLB game replays, news and analysis, highlights, classic games, and MLB-themed original content and programming on demand.
"Friday Night Baseball" will be available on Apple TV+ in the United States, Canada, Australia, Brazil, Japan, Mexico, Puerto Rico, South Korea, and the United Kingdom, without any regional blackouts, and will expand to additional countries at a later date. "Friday Night Baseball" will not require an Apple TV+ subscription for a limited time at launch.
"Just like all baseball fans, we can't wait for the season to open," said Peter Stern, Apple's vice president of services. "Baseball has a special place in the heart of so many Apple customers — not just in the United States, but in many countries around the world. We're proud to make Apple TV+ the home for great baseball moments throughout the season."