Popular Drag-and-Drop Mac App 'Yoink' Gains Configurable Clipboard History Widget and Browser
Popular Mac drag-and-drop app Yoink received a substantial update on Monday that brings back a much-improved Yoink clipboard history widget with several highly configurable features.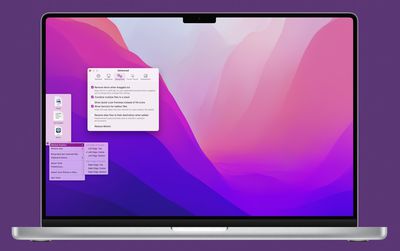 For those unfamiliar with the app, Yoink aims to simplify the action of dragging and dropping files and app-content on the macOS desktop by providing a temporary place for files to be dragged to. Yoink's shelf fades in when you start a drag - either with files from Finder or app-content, like an image from a website - offering you a temporary place for your dragged files.
With files temporarily docked in the Yoink shelf and the cursor free, users can more easily navigate to the intended destination of files, which is handy when moving and copying files between different windows, Spaces, fullscreen apps, or devices via Handoff.
Today's v3.6.5 update brings back the defunct Objective-C based Yoink widget, only now written in Swift, offering previously unavailable functions. The widget comes in medium and large sizes, and provides quick access to Yoink's clipboard history, allowing users to select up to six previous copies of items in the medium widget and up to 12 in the larger one. Clicking an item in the widget copies it to the clipboard, ready for pasting elsewhere.
Yoink supports the use of up to three widgets simultaneously that can be configured to show the most recent copies, older copies, and oldest copies. So for example it's possible to have one large and one medium widget to show the last 18 copied items, or three large widgets to show the last 36 copied items.


Individual widgets can also be configured to show specific data types (images, text, links, or files), and each widget has a Pin feature that allows items to be pinned to the top so that it doesn't go away when other items populate the clipboard.
In addition, Yoink v3.6.5 comes with a clipboard history browser, where users can organize copied items with actions like pin, unpin, delete, send to Yoink, copy, and clear history.
In other changes, rather than a TIFF file, a PNG file is now created when pasting image data into Yoink. Yoink also transparently provides PNG and JPEG data when dragging out images of the types HEIC, HEIF or TIFF to broaden compatibility with other apps.
Yoink runs natively on Apple Silicon and Intel Macs, although note that this version of Yoink increases the minimum system requirements from macOS 10.10 Yosemite to macOS 10.12 Sierra. Yoink v3.6.5 is available on the Mac App Store as a $8.99 one-time purchase and updates are free to existing customers. Yoink is also available for iPad and iPhone.