Shortcuts App Coming to Mac, Automator Will Remain Supported
During its announcement of macOS Monterey today at WWDC, Apple also revealed that the Shortcuts app is coming to macOS this year. The company said that a large library of pre-built shortcuts will be made just for the Mac.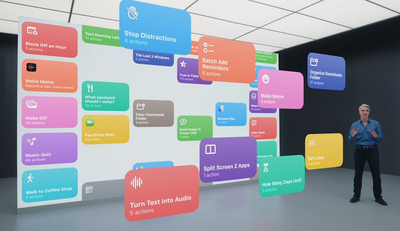 Just like on iPhone and iPad devices, Shortcuts on Mac will let users quickly accomplish complex tasks with the apps they use the most. Apple said that power users will be able to use the Shortcuts Editor on Mac to customize shortcuts to match their workflows.
Shortcuts will be integrated throughout macOS Monterey, in the menu bar, Finder, Spotlight, and even with Siri. Apple also noted that users will be able to import existing Automator workflows into Shortcuts, and Automator will remain supported.