Apple Expands Exposure Notification API With 'Express' Option That Doesn't Require an App
Apple is today releasing iOS 13.7 with a major step forward in the Exposure Notification API that's available for public health authorities to use for their COVID-19 contact tracing efforts. Exposure Notifications Express is designed to provide simpler deployment of regional exposure notifications without the need to develop or maintain an app.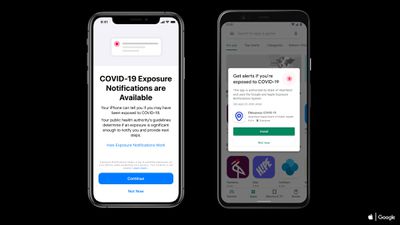 The new Exposure Notifications Express system will also let users in participating states opt into the system more easily, while still maintaining focusing on privacy and security.
When upgrading to the new iOS 13.7 update, users in states who have agreed to use Exposure Notifications Express will be provided with a notification letting them know that exposure notifications are now available in their state. Tapping the notification will open up the Settings where they can turn on ‌Exposure Notification‌ without downloading an app. From Apple and Google:
"As the next step in our work with public health authorities on Exposure Notifications, we are making it easier and faster for them to use the Exposure Notifications System without the need for them to build and maintain an app. Exposure Notifications Express provides another option for public health authorities to supplement their existing contact tracing operations with technology without compromising on the project's core tenets of user privacy and security. Existing apps using the Exposure Notification API will be compatible with Exposure Notifications Express, and we are committed to supporting public health authorities that have deployed or are building custom apps."
To develop Exposure Notifications Express, Apple consulted with the Centers for Disease Control and Prevention, the CDC Foundation, the Association of Public Health Laboratories, the American Public Health Association, the Association of State and Territorial Health Officials, the Council of State and Territorial Epidemiologists, the National Association of County and City Health Officials, and the Task Force for Global Health.
States that use Exposure Notifications express will not need to develop an app and can instead provide Apple and Google with information about how to reach the public health authority, guidance for residents, and recommendations on potential actions. Public health authorities provide a name, logo, criteria for triggering an exposure notification, and the materials to be presented to users in case of exposure, with Apple and Google using this information to offer an Exposure Notifications System to customers on behalf of the public health authority.
Maryland, Nevada, Virginia, and Washington, D.C. will be the first areas to use Exposure Notifications Express. iOS and Android Exposure Notifications will be fully interoperable with one another and existing Exposure Notifications apps that have rolled out. Public health authorities can still choose to build their own custom apps instead of using Exposure Notifications Express.
More than 20 countries and regions have already created and launched apps that use the ‌Exposure Notification‌ API, with more on the way. In the U.S., 25 states, territories, and the District of Columbia have been working on ‌Exposure Notification‌ solutions, with apps launched in Virginia, North Dakota, Wyoming, Alabama, Arizona, and Nevada.
Note: Due to the political or social nature of the discussion regarding this topic, the discussion thread is located in our Political News forum. All forum members and site visitors are welcome to read and follow the thread, but posting is limited to forum members with at least 100 posts.