Apple Offering Curated Collections of TV Shows, Podcasts, Books, Movies and More Aimed at Families
Across the United States and other countries, adults and children alike are stuck in their homes for work, school, and more amid the ongoing pandemic, so Apple has is offering a collection of curated content across all of its apps that's aimed at families.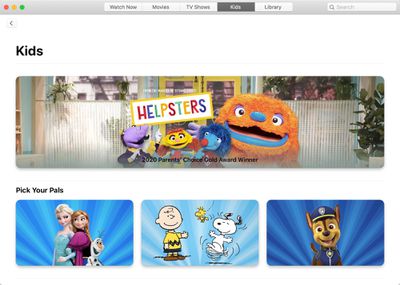 In the Apple TV app, Apple has a Kids tab available that sorts TV shows and content by age, plus there are a number of children's shows on Apple TV+, including "Snoopy in Space," "Helpsters" and "Ghostwriter."


In Apple Music, curators have put together a number of playlists and radio stations aimed at children and families, listed below.
Apple Podcasts is featuring a number of podcasts designed for kids, such as "Get Smart, Stay Smart" and "Stories and Adventures."


As Apple announced earlier this month, the Apple Books app also has a number of free books and audiobooks that are for children, including "Winnie the Pooh," "The Secret Garden," "Sesame Street Classics," and more.


The App Store also has quite a few apps that offer free content that can keep children entertained.
All of the above listed content can be found in Apple's ‌App Store‌, Music, Books, Podcasts, and TV apps.